These fans have ended the Davido and Burna Boy music feud, they say Burna Boy is better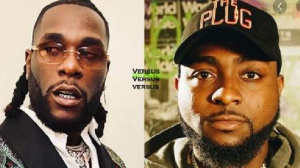 Davido and Burna Boy are two talented afrobeat artiste that have worked their way into the hearts of many music lovers in Nigeria and other parts of the world.
However, the two acts are fiercely competing with each other regarding who is most talented, with their fans hopping on their clashes, and supporting their icons.
MyNigeria took to the streets to get fans opinions about the two artistes.
According to one man, Davido does more outside of the studio by empowering and helping poor people and for that reason, he is his favourite.
"Davido is better than BurnaBoy because he empowers people in the music industry. For me, I think he's better than Burnaboy. Davido in Nigeria is helping poor people. That's the reason why I'm saying he's better than Burnaboy. My favourite Davido song is one he did with Olamide and Falz. Bad, Baddo baddest," he said.
According to another man, Burnaboy stands out for him because he has a style of delivering his music that he loves.
"I believe Davido is good, Burnaboy is good, but both of them, I think I like Burnaboy. He got some swag that I love. He got some feeling that I love too. My favourite Burnaboy song is Odogwu. I can't really sing the song but I love it and I've watched the video clip several times," he said.
Abass, a phone repairer also added that he chooses Davido because he has quality education in addition to his music talent.
"Davido is the best artiste. Number one, Davido is not a loser, he's a graduate. And I think that he has a normal home training than Burnaboy," he said.
Watch more in the video below: