Ofori-Atta at post; ignore resignation rumours – Finance Ministry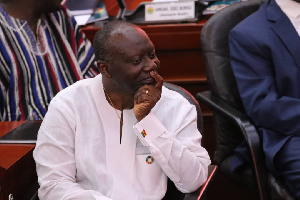 Finance Minister Ken Ofori-Atta has not resigned from his post as being speculated on social media, the Ministry of Finance has said in a statement issued on Tuesday, 5 October 2021.
"The attention of the Ministry of Finance has been drawn to rumours circulating on social media platforms that the Minister of Finance, Mr Ken Ofori-Atta, has resigned from his position", the statement said.
It said Mr Ofori-Atta is at post.
"The Ministry wishes to assure the general public that there is no truth in these rumours", the statement added.
"Mr Ken Ofori-Atta is at post and focused on his mandate, given to him by His Excellency the President, to serve the people of Ghana in his capacity as Finance Minister".
"The general public is advised to disregard these rumours".