Rich Men Come After Me And It's A Favor Of God, I'll Marry Soon – Osebo's Ex Wife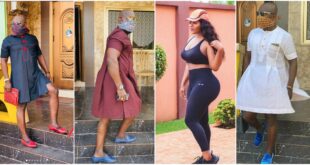 Afia Mansah popularly known as Ohemaa has detailed that she will soon marry a rich man who has provided her a house and a car in her interview with Delay.
Ohemaa in her interview with Delay talked about her ex-husband, Osebo and debunked some rumors from him including receiving cars and a house during the days they were a thing together.
Ohemaa also talked about how and where Osebo met her and how he treated her and also the number of times she caught him cheating.
Of course Delay asked her whether about the skirt wearing life of her ex-husband and Ohemaa revealed that she in particular does not care about Osebo wearing skirt but the friends of their daughter tease her with that
The Ghanaian actress, TV presenter and influencer, Ohemaa has debunked the nation that she is always after rich men.
According the beautiful actress, she is not after rich men as people think but its rather the opposite. In her interview with Delay Frimpong Manso on her Delay Show, Ohemaa One position that, the Rich men are rather the ones drooling after her.
Ohemaa One added that, she has been favored by God so the rich men rather wants to date her.
Asked whether she will get married again, the fair looking actress answered in the affirmative and added that, she has a man in her life and she will soon settle down with him.
Watch the video below: