Sarkodie's fans chase Tracy over Silhouette Challenge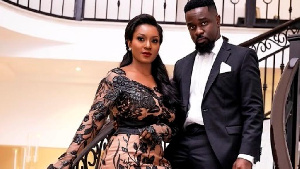 An open request from Sarkodie to Tracy to join the Silhouette Challenge got social media users crazy but the response from the wife seems to be eliciting more interesting reactions.
In the last couple of days, the Silhouette Challenge, a TikTok trend, has been keeping people busy online due to its sensual nature.
The Silhouette Challenge involves posing in a doorway before turning yourself into a black silhouette against a red background. It combines the popular transition trend that's taken over TikTok in the past year, but adds a little twist, using filters and colour to enhance the transition.
Sarkodie in a tweet asked his wife to join the bandwagon, announcing that "we're waiting". Although these visuals are shared online for the viewing pleasure of social media users, Tracy would serve the rapper the content via his inbox.
Replying to Sarkodie's tweet, she said: "Check your dm", to the disappointment of those who for one reason or the other expected her to make it public.
The reply attracted humourous responses from follows of both personalities. While some said Tracy was being stingy, others stressed the pronoun used in Sarkodie's request was 'we' and not 'I', hence they are not to be denied the opportunity. Others, however, commented that her response was apt.
Here are a few of the responses.