Akufo-Addo vows to sack non-performing MMDCEs in Ashanti Region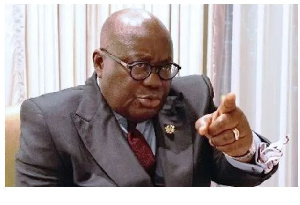 The President of the Republic of Ghana, Nana Addo Dankwa Akufo-Addo has vowed to sack some Metropolitan, Municipal and District Chief Executives (MMDCEs) in the Ashanti Region who are not performing to the expectation of the people they claim to be serving.
The President's decision comes after the Traditional Leaders of Adanse in the Formena Constituency of the Ashanti Region called on him to deal with his appointees in the area who according to them are not performing to the expectation of residents while exhibiting some traits of arrogance.
According to the Adansehene Nana Opagyakotwere Bonsra Afriyie II who made the accusations, most of the political appointees especially Members of Parliament (MPs) and District Chief Executive (DCEs) in his area have not been performing.
"There is nothing to show for what our past MPs and DCEs have done and anytime I have my voice heard on the matter, they turn to chastise me. But if I don't talk about this who is supposed to talk?" Adansehene Nana Opagyakotwere Bonsra Afriyie II asked.
Most of these officials he added also do not recognise traditional leaders in their decision making because they think they were appointed directly by the president and not chief and also called on President Akufo Addo to include Chiefs in selection of MMDCEs.
"We are the people living in the area, if you want to appoint Sistrict Chief Executives, let us also have a say in it", he pladed
President Akufo-Addo response to the chief, hinted that he is going to sack non performing DCEs in the area and bring on board competent people to improve the lives of residents.
"There are only few for me to say about the fact that, you have not seen MCEs and DCEs in Formena performing to your expectation. If the current people are not able to help, I can assure you that those coming next will make change", President Akufo Addo assured.
"I promise that, in my next government when I'm voted for to continued, I will make sure those coming will be people who can work with you", he added.
Source: MyNewsGh.com