LGBTQ: 5 Key Benefits of Inclusive Workplace Environments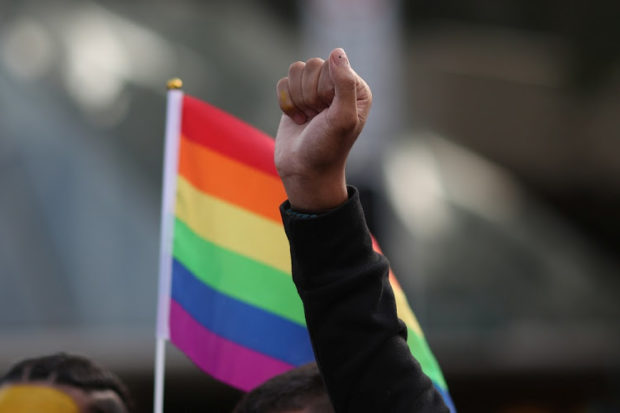 The crucial link between performance and LGBTQ inclusion is employee engagement. Analytics provider, Gallup has been measuring the link between employee engagement and company performance across all industries; their finds show that employee engagement drives significantly higher productivity and profitability. Companies that openly embrace LGBTQ people are sending a clear signal to all of their employees: that all individuals are accepted and valued, that the are free to "be themselves", and that their contribution is welcome.
"Achieving a 100 percent ranking on the Corporate Equality Index demonstrates our enduring commitment to meeting the diverse needs of our employees worldwide. We believe that creating a workplace where Inclusion and Diversity is deeply valued and embraced allows employees to thrive both personally and professionally," – Marilu Marshall, Chief Inclusion & Diversity Officer at The Estee Lauder Companies 
Attracting and Retaining Talent
Many global companies have found that creating LGBTQ inclusive workplaces can play a role in attracting the best talent. Inclusion sends a strong signal that the company is progressive and open.
According to The Intelligence Group, 88% of Millennials look for work-life integration within their professional life. LGBTQ inclusion signals good "work-life integration" as talented employees expect to blend their personal and professional lives in order to make both work better. This is especially true in the San Francisco Bay Area where the LGBTQ population is among the highest in the US. A company that reflects the external population within its internal staff is actively integrating its employees work and personal life for both LGBTQ and non-LGBTQ employees.
This is also true when companies are trying to retain these employees. Any type of employee turnover is costly to a business. Level Playing Field Institute reports that LGBTQ discrimination dramatically increases the voluntary turnover within a company. Gay men and women leave their employers due to workplace unfairness at twice the rate of straight white males.
In contrast, inclusive environments have lower overall voluntary turnover levels. Actively managing diversity within the workplace has been found to decrease company turnover and is an indicator of a well-run workplace.
"A perfect score on the HRC Corporate Equality Index says a lot about a company's commitment to the LGBTQ community. A perfect score for 14 straight years is evidence of a sustained commitment. From our Board of Directors to our frontline employees, we are committed to diversity and to equality for all." – Corey Anthony, SVP & Chief Diversity Officer at AT&T
High Engagement
Being inclusive promotes an equal and diverse work environment. The perception of "culture fit" is a driver of satisfaction among all employees, TinyPulse reaffirms in their report on employee engagement. Their research shows that open and inclusive work environments increase employee satisfaction levels by allowing more individuals to feel a sense of ownership within their company and its culture. When LGBTQ members are a part of the company's culture, a sense of pride for the company is established and spreads throughout work environment.
Collaboration
Mutual understanding and good relations between members of a team are essential to team performance. Especially prominent in SF and Silicon Valley's startup culture, company structures are dynamic and adaptable, leading to an increasing reliance on teams. The effectiveness and success of teams has become important to determining business performance in these companies. As team members usually consist of people with different skills and background, this usually increases creativity and productivity. Deloitte University reports that inclusion and diversity contribute to more collaboration. A culture that nurtures diversity allows its team members to feel comfortable contributing and collaborating with one another.
Motivation
As outlined in the Open for Business report that looks into the economic and business case for LGBTQ inclusion, increasing productivity is a major motivation for adopting LGBTQ inclusion policies. People are more motivated if they feel that they are treated fairly and those who do not feel acceptance in the workplace are less motivated.
Researcher also recognize "relatedness" as a key driver in motivation; people who can relate to their colleagues in terms of acceptance and understanding tend to be more motivated in the workplace.
These factors are true for all employees, which is why an inclusive culture lead to a more motivated team. This also highlights why LGBTQ people are particularly affected by the factors that reduce motivation. Companies recognize these factors and with an inclusive policy in place, they minimize the risk of a less motivated workplace.
More Problem Solving
Companies that embrace inclusion are more effective at fostering a high-communication culture, Deloitte University study on inclusion implies. Inclusion creates an environment where workers are free to speak up when they see a problem, and contribute to problem solving.
LGBTQ members can be confident the voice outside of the box approaches and creative solutions. In a survey done by Stonewall UK on gay people and productivity, employees indicated that having to conceal their sexual orientation at work reduced their levels of creativity and innovation, while being out and open at work increased their confidence in sharing new ideas.
Increase Innovation
Innovation is critical to securing and maintaining competitive advantage. SF companies recognize this and nurture this type of culture by their inclusive and diversity policies.
As Deloitte University's research shows, 83% of employees who perceive that their organization is committed to diversity are more likely to consider that the company "develops innovative solutions". This is especially true in the SF Bay Area where it's known to be the hub of innovation and innovative practices.
As outlined in the Williams Institute study on Economic Motives for Adopting LGBT-Related Workplace Policies, many of the top 50 Fortune 500 companies believe that they are able to generate the better ideas by drawing on a workforce with diverse characteristics and experiences. Having inclusive policies in place encourages this; workplace diversity leads to fresh ideas and better decisions.
Inclusive policies show that diverse groups outperform more homogeneous groups through new perspectives and because diversity triggers a more careful processing of information as its conducted by individuals with different background and mindsets.
Drawbacks of Homogeneous Environments
Workplaces that do not have a policy of diversity and openness deal with many people feeling the need to conceal important aspects of themselves – a phenomenon among the LGBTQ community known as "covering". In the Human Rights Campaign's study on The Cost of the Closet and the Rewards of Inclusion, they recognize that purposely hiding a personal identity that is stigmatized takes a lot of effort and creates stress.
This results in that individual diverting attention from their core tasks, and waste energy worrying about discovery or its consequences, resulting in the person becoming less motivated and less productive. The study confirms the negative impact on employee engagement: 20% of LGBTQ employees report feeling exhausted from expending time and energy hiding their identities, and 30% felt distracted from the job at hand due to negative workplace environments.
To outline the true cost of discrimination in the workplace, the American Civil Liberties Union (ACLU) has reported that LGBTQ discrimination costs US businesses $1.4 billion in lost output each year. This estimation includes hostile work environments which accounted for the reduction in gay and lesbian workers' productivity.
In Apple's Case
Silicon Valley giant and world renowned innovator, Apple, has a long standing reputation of being inclusive and has earned a 100% rating in HRC's Corporate Equality Index for fifteen years in a row. Its policy is not just limited to the LGBTQ community, but to all minorities as outlined in their Inclusion & Diversity; the company's stance and understanding of inclusion is so strong, they've created a company mantra of "Inclusion Inspires Innovation".
When Apple CEO, Tim Cook, came out publicly as a gay man in 2014, this had a very meaningful message to not only executives of any corporation, but also to the LGBTQ community as a whole. The Harvard Business Review notes that though Tim Cook was out and open to people in his personal life and to some colleagues at Apple, he was not out to "the world". His announcement signaled a very strong statement, true to any company that are inclusive – covering is no longer required to succeed at the top.
Conclusion
There are many benefits of adopting an inclusive environment within the workplace; many more than what was outlined in this article. A lot of research and studies have been conducted to support these benefits and now companies cannot ignore the finding.
Nurturing a culture of diversity and openness allows all team members to perform at higher levels. When this type of environment is the norm, employee engagement, collaboration, motivation and a space that encourages problem solving is created and effects the entire workplace.
Team and individual performance is increased without the distraction of the effects of "covering" and intolerance. When a culture that allows all people to be themselves and encourages happiness of all types, this brings higher performance to the business and, in turn, drives innovation.
Source: Thepressradio.com|America|Wilmer Balmocena