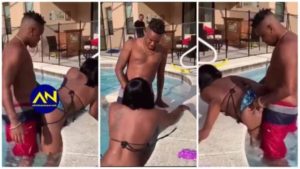 Shocking footage shows a randy couple brazenly romping in a public swimming pool has set tongues wagging on social media.
Filmed by a stunned sunbather, the passionate duo were pictured doing the unthinkable while other bathers float around them in broad daylight.
Despite wearing pants , the romantic male doesn't appear self-conscious as he makes sweet love to his partner.
It is unclear where the astonishing footage was filmed although it was originally uploaded to social media this year.
The clip has clearly touched a nerve with romantics around the world having been viewed nearly three million times.
However, not all online users are happy about the public display of affection.
Watch the video below :