The Chairman of the National Democratic Congress Chapter in the United Kingdom (UK) and the Republic of Ireland Alhaji Alhassan Mbalba has on behalf of the chapter sent a goodwill message to Muslims across the world Happy Eid Ul-Fitr celebrations.
Alhaji Mbalba in a press release noted the importance of Ramadan.
He furthermore prayed to the Almighty Allah to grant the NDC and its Flagbearer John Dramani Mahama a resounding victory in the 2024 general elections.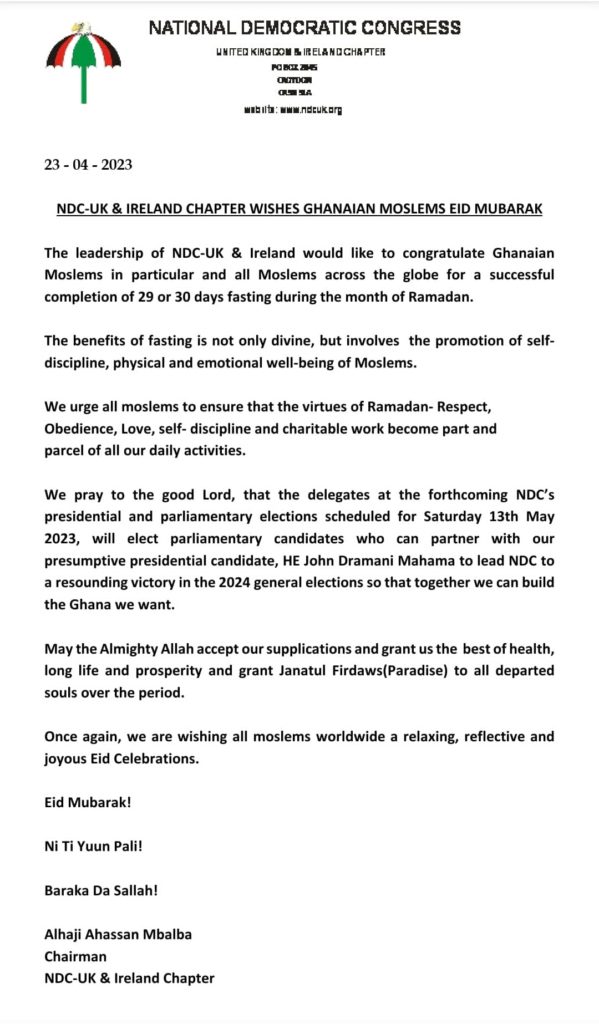 BELOW IS THE FULL PRESS RELEASE:
NDC-UK & IRELAND CHAPTER WISHES MOSLEMS EID MUBARAK
The leadership of NDC-UK & Ireland would like to congratulate Ghanaian Muslims in particular and all Muslims across the globe for a successful completion of 29 or 30 days fasting during the month of Ramadan.
The benefits of fasting is not only divine, but involves the promotion of self-discipline, physical and emotional well-being of Muslims.
We urge all Muslims to ensure that the virtues of Ramadan- Respect, Obedience, Love, Self-discipline and charitable work become part and parcel of all our daily activities.
We pray to the good Lord, that the delegates at the forthcoming NDC's Presidential and Parliamentary primaries will elect candidates who can partner with our presumptive presidential candidate, HE John Dramani Mahama to lead NDC to a resounding victory in the 2024 general elections so that together we can build the Ghana we want.
May the Almighty Allah accept our supplications and grant us the best of health, long life and prosperity and grant Janatul Firdaws (Paradise) to all departed souls over the period.
Once again, we are wishing all Muslims worldwide a relaxing, reflective and joyous Eid Celebrations.
Eid Mubarak!
Ni Ti Yuun Pali!
Baraka Da Sallah!
Alhaji Alhassan Mbalba
Chairman
NDC-UK & Ireland Chapter