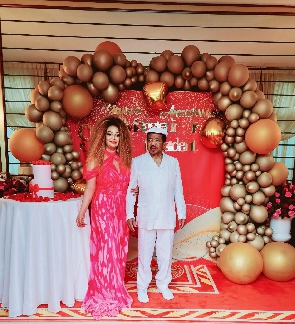 Photos have been released from the 90th birthday of Cameroonian President Paul Biya who is currently the longest serving political leader in the world.
Biya's birthday falls on February 13.
The president's official social media handles shared photos of Biya in the company of the First Lady Chantal Biya and close relations at the presidential lodge in his village, where he spent the day.
Biya is spotted in an all-white outfit from his cap to his shirt and trousers and matching white shoes whiles Chantal is in a pink flowery dress with her trademark orange wig.
"I am immensely grateful for your massive mobilisation and warm messages on the occasion of my birthday," he tweeted along with two photos from his day.
In other photos shared by the Presidential Cabinet on Facebook, the anniversary cake for the ocassion as sighted by GhanaWeb is relatively smaller as compared to the usual multi-tier cake with Biya's age planted at the top.
The celebration, usually national in nature, has traditionally been held at the Etoudi Palace, the presidency located in the capital Yaounde.
Paul Biya is one of Africa's longest serving presidents having come to power in November 1982.
As of today, Biya has spent 40 years and over three months in office. His current term of office will expire in 2025.
Biya has remained in power through political reforms like a single-party system in the 80s (which he abolished under pressure in the 90s), high-margin election victories (which have consistently been suspected as fraudulent) and has maintained a close relationship with France, the former colonial master.
Below are the photos from his 2022 birthday party:
Source: www.ghanaweb.com