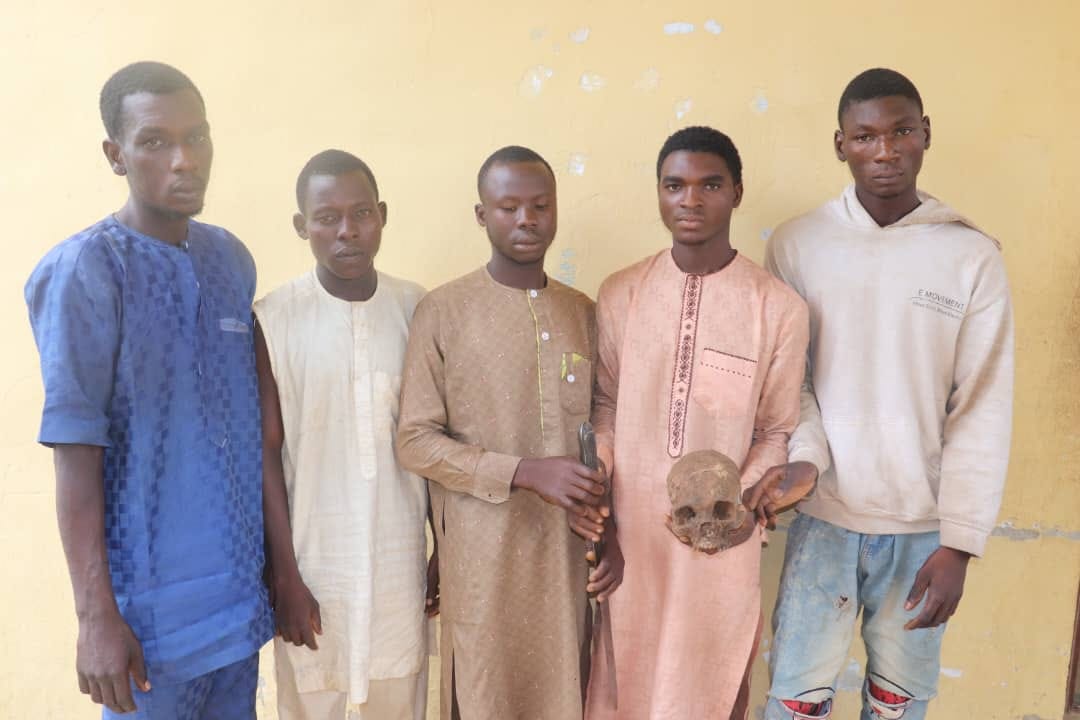 The Niger State Police Command has arrested five people caught with a human skull for money ritual purposes.
The suspects told police that they were sent by an Alfa to bring the skull.
Spokesman of the command, DSP Wasiu Abiodun, made this known in a statement issued on Friday, Sept. 22. He added that the whereabouts of the Alfa could not be ascertained.
Abiodun said that two of the suspects, Isah Mohammed, 26, and Idris Mohammed, 28, both of Sakpe village, Edati LGA, were earlier arrested, and they took them to the other three suspects.
The statement reads: "On 11th of this month, at about 12:30 operatives of a sister security agency, while on routine patrol at toll-gate along Bida-Minna road intercepted a Mitsubishi Lancer vehicle, and in the course of searching the passengers, two suspects were arrested.
"The two suspects were found in possession of a human skull wrapped in a Bagco bag, hence, the suspects were transferred to the Police Area Command, Bida for interrogation and further investigation.
"During Police interrogation, the suspects claimed that they got the human skull from their village, and mentioned three other persons who aided in digging the grave where the skull was exhumed; Ibrahim Jiya 18, Suleiman Usman 22, Abdullahi Usman 24, all of the same address mentioned above.
"The three suspects were also arrested and confessed further that the skull was dug out from the Sakpe village burial ground and that it was that of one Ndako Daniyan who died three years ago in the same village.
"Isah and Abdullahi claimed to have met one Alfa Suleiman from Kwara State at Bida three weeks ago who told them to get a human skull for money ritual purposes and instructed them to take it to someone in Minna with thirty thousand naira only, while the unknown recipient said that when they get to Kpakungu, they should call him and he would meet them."
The spokesman said the five suspects have been transferred to SCID Minna for discreet investigation and diligent prosecution.