Election petition: Rojo Mettle Nunoo testifies via Zoom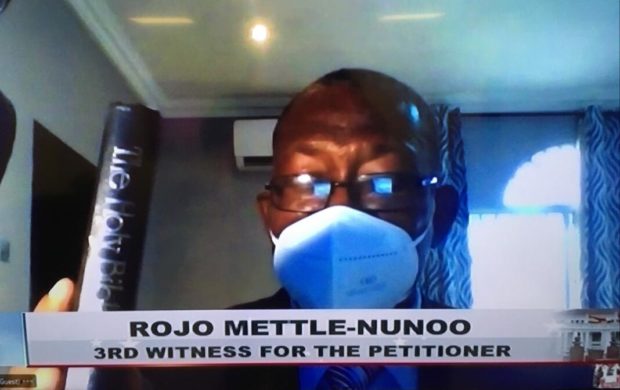 The third witness of former President John Mahama in the election petition trial Rojo Mettle Nunoo is giving his testimony via video conferencing application Zoom at the Supreme Court.
It is the first time a witness is offering his testimony through live video since the petition began.
With a reported ill-health, the witness who had his witness statement filed on Thursday is going to be cross-examined by lawyers of the respondents on his 32-paragraph witness statement
In court on Friday, when the matter was called and Mr Mettle-Nunoo connected to the court on-screen, Akoto Ampaw, a lawyer for the Nana Addo Dankwa-Akufo Addo raised concerns to the effect that, a judicial officer should be assigned to the witness to ensure due process.
The court wondered why he did not come with the other lawyers to address the matter in chambers, but he explained that due to the fact that the matter was being dealt with in public.
Mr Tsatsu Tsikata, lead counsel for the Petitioner in a reaction to the concern said it would not be an issue assigning a judicial officer to where the witness would be testifying from.
He explained that it will not take more than 25 minutes for the said officer to get to the venue and he could do that together with the medical officer with him.
Source: Ghana/Starrfm.com.gh