Ukraine's president has said his nation will not respond to provocations amid a deadly escalation in fighting in rebel Russian-backed eastern territories.
But Volodymyr Zelensky told world leaders Ukraine would defend itself against Russian aggression.
Two Ukrainian soldiers have been killed on a third day of clashes between the Ukrainian military and separatists.
US President Joe Biden says he is convinced Russia will invade Ukraine, but Moscow denies this.
Western nations have accused Russia of trying to stage a fake crisis in the eastern regions as a pretext to invade.
But speaking to a security conference in Munich, Mr Zelensky said Ukrainians "are not panicking, we want to live our lives".
He accused Western leaders of "a policy of appeasement" towards Moscow and demanded Ukraine be given new security guarantees. Mr Zelensky had travelled to Munich despite being warned by US officials that it was unsafe to leave his country.
His made his comments as monitors reported a "dramatic increase" in attacks along the line dividing rebel and government forces in eastern Ukraine. Monitors said there were more than 1,400 explosions in the breakaway Donetsk and Luhansk regions on Saturday alone.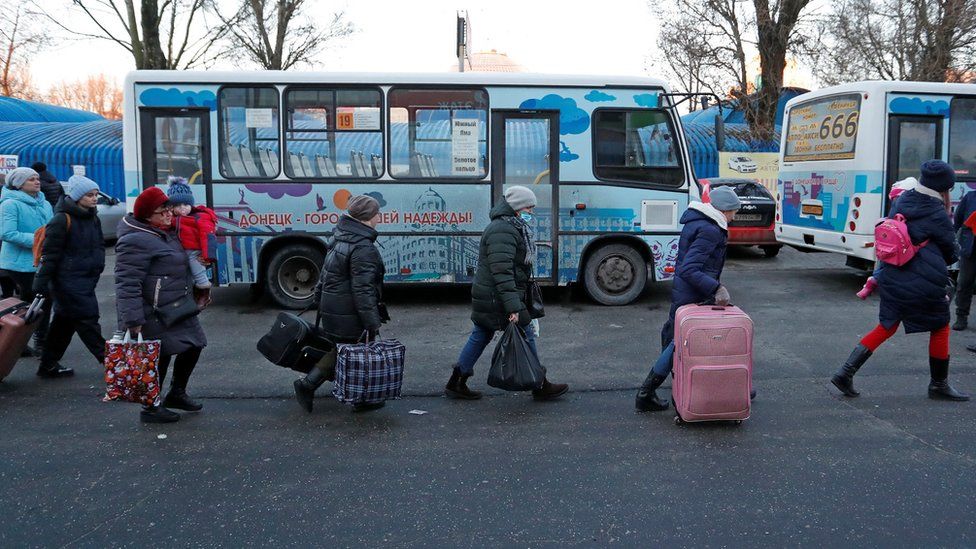 Denys Monastyrsky, the Ukrainian interior minister, had to be hurried into a bomb shelter after coming under shellfire while he was touring the front lines.
Separatists in the self-declared people's republics of Donetsk and Luhansk have ordered a mobilisation of all men of fighting age and urged other civilians to evacuate to Russia. The separatists claimed, without providing evidence, that Ukraine was planning to attack.
Many did not comply with the evacuation order, instead remaining at their homes.
Russian media released a series of unverified reports of attacks or attempted attacks inside separatist-held territory on Saturday.
Russia launched a criminal investigation into reports, denied by Ukraine, that shells exploded on Russian territory in the Rostov region, about a kilometre from the Ukrainian border.
As reports of shelling continued, Germany and France became the latest Western countries to urge their citizens to leave Ukraine. The German airliner Lufthansa has suspended flights to Ukraine for a week from Monday.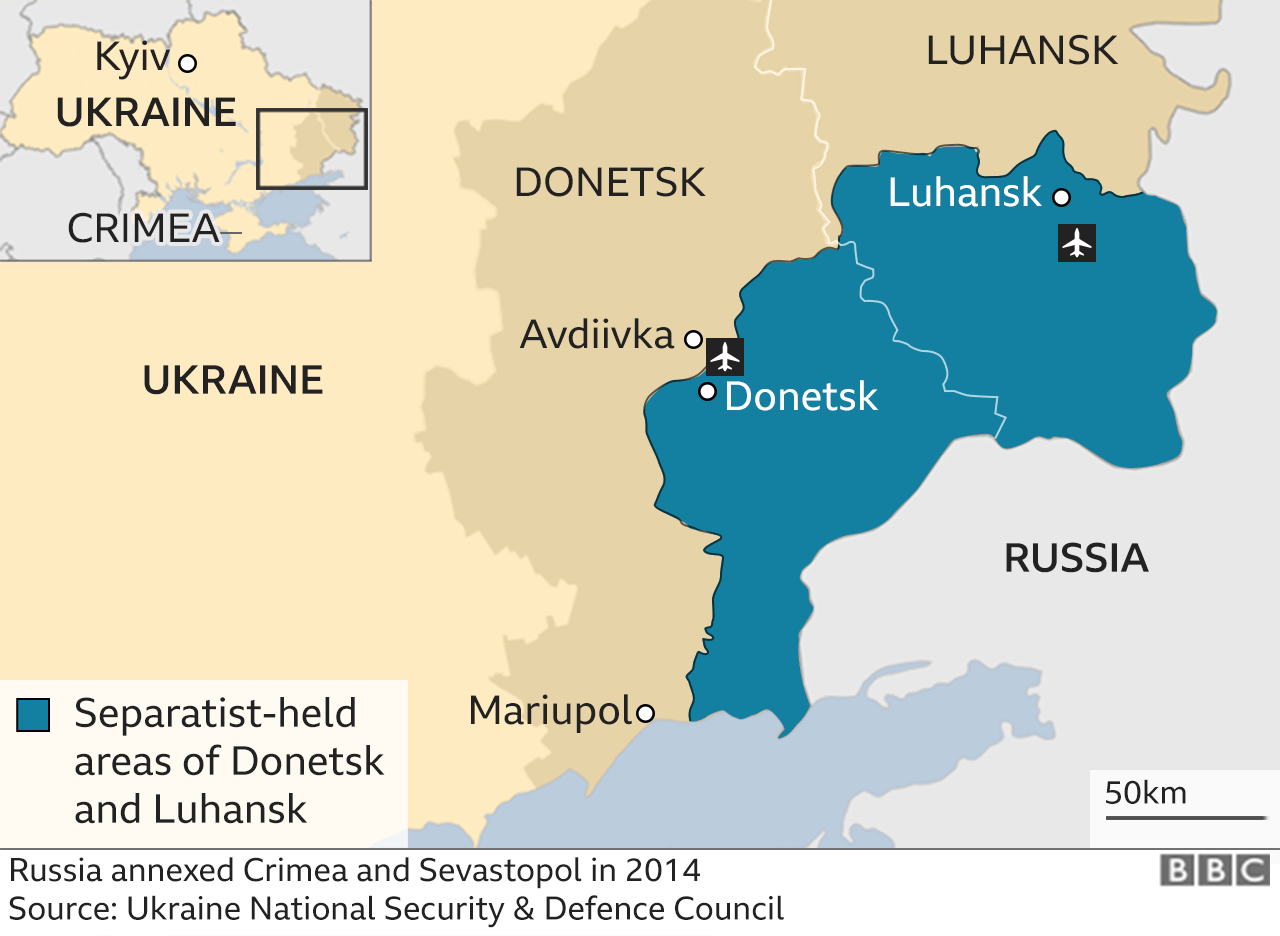 As Western leaders met in Munich, Russia was putting on another demonstration of its military capabilities.
It says it launched advanced hypersonic missiles as part of strategic nuclear drills, which were overseen by President Vladimir Putin. Russia has been holding military exercises in Belarus, close to the border with Ukraine.
The drills followed a build-up of Russian troops – estimated by the US to be between 169,000 and 190,000, which includes separatist fighters in the rebel Ukraine regions – along Ukraine's borders. Mr Biden's Defence Secretary, Lloyd Austin, said Russian forces were beginning to "uncoil and move closer" to the border with Ukraine.
In an earlier speech to the conference, US Vice-President Kamala Harris accused Moscow of trying to create a fake pretext for invading Ukraine and warned the consequences for Russia would be "severe and swift".
Her remarks were echoed by UK Prime Minister Boris Johnson, who said if Russia invaded, "we will sanction Russian individuals and companies of strategic importance to the Russian state".
Ukraine, a former Soviet republic with historic ties to Russia, is not a member of Nato or the European Union but has close relations with both.
Russia is insisting Ukraine should not be allowed to join Nato, which it sees as a threat to its security.
BBC.C0M