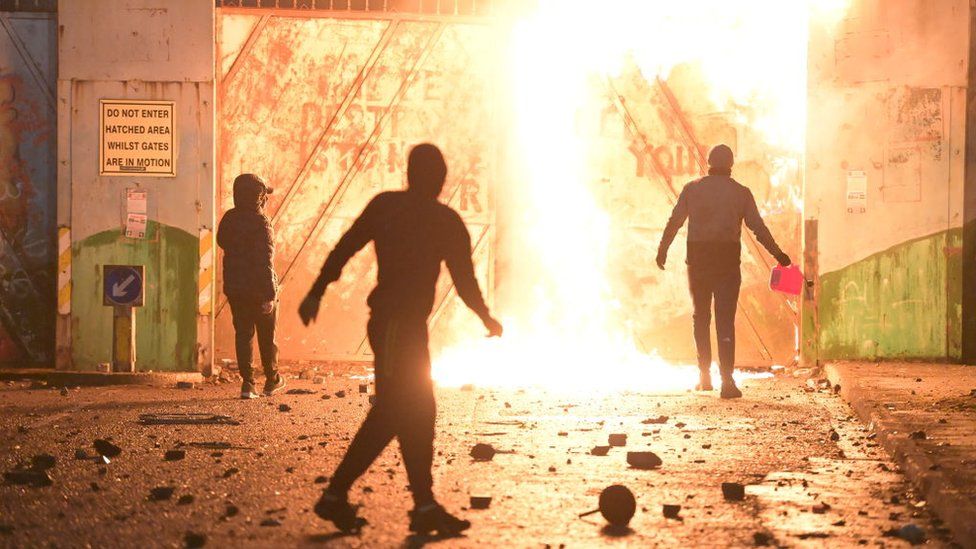 Rioting in Belfast on Wednesday night was on a scale not seen in Northern Ireland for years, police have said.
During several hours of violence, police officers were attacked, petrol bombs were thrown and a bus was burnt.
Eight officers were injured at an interface between loyalist and nationalist areas in west Belfast.
Northern Ireland's power-sharing executive said it was "gravely concerned" by recent street violence and has called for calm to be restored.
Prime Minister Boris Johnson has also condemned the disorder.
It was likely that paramilitary organisations were involved and had planned the rioting, according to Police Service of Northern Ireland (PSNI) Assistant Chief Constable Jonathan Roberts.
He said several hundred people on each side of a barrier separating the loyalist Shankill Road and the nationalist Springfield Road in west Belfast were involved and petrol bombs were thrown in both directions.
"Last night was at a scale we haven't seen in Belfast or further afield in Northern Ireland for a number of years," he said.
"We are very, very lucky no-one was seriously injured or killed last night given in particular the large number of petrol bombs thrown."
Police officers were called in from other parts of Northern Ireland to help to deal with the rioting.
More than 50 officers have been hurt in violence in several areas since the end of last month.
The bus driver whose double-decker was attacked and burned is "very shaken by the incident but is physically unhurt", according to the public transport provider Translink.
Belfast has had plenty of practice clearing up after an overnight riot and the latest operation was almost complete by 09:00 BST.
There was still smoke coming from a burning bus but life went on and other bus services continued past the smouldering wreck.
There has been an outbreak of violence in a part Northern Ireland every night now for more than a week.
The Shankill Road and Springfield Road in west Belfast are now added to the list that includes Newtownabbey, Carrickfergus, Ballymena and the Waterside area of Londonderry.
The longer it goes on, the harder it will be to stop.
In recent days 10 people have been arrested as a result of rioting by gangs of people, some as young as 13.
Prime Minister Boris Johnson said: "The way to resolve differences is through dialogue, not violence or criminality."
The BBC is not responsible for the content of external sites.View original tweet on Twitter
Northern Ireland Secretary Brandon Lewis will travel to Belfast on Thursday to meet political parties.
Mr Lewis said he was aware of unionist concerns in recent months and he had been "engaging and listening" them.
"However… the right way to express concerns or frustrations is through dialogue, engagement and the democratic process, not through violence or disorder," he said.
Labour Party leader Sir Keir Starmer said the violence was "completely unacceptable" and he called on Mr Johnson to "step up" and "show leadership".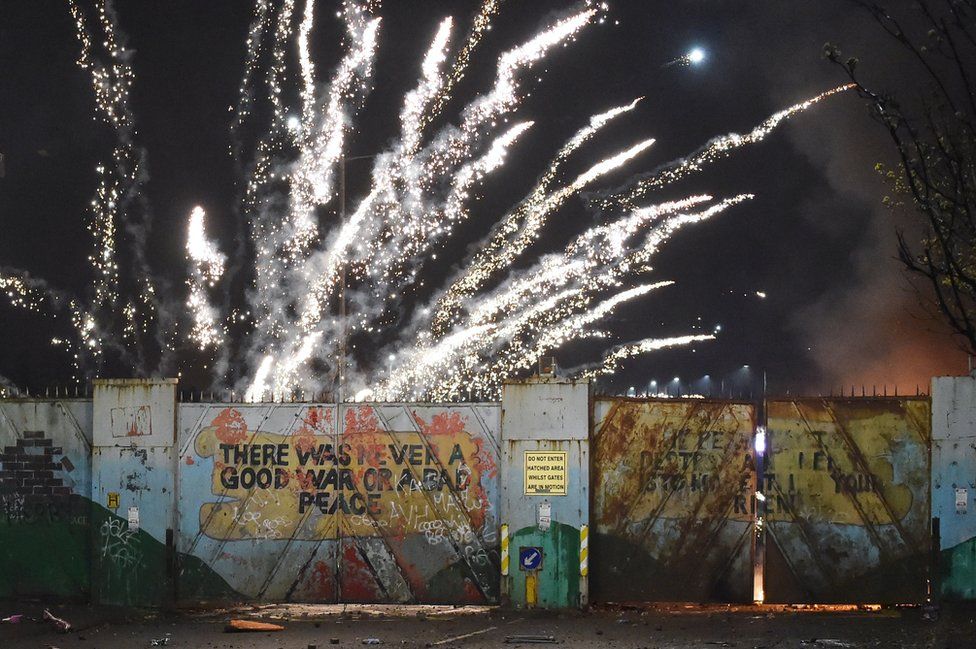 Taoiseach (Irish Prime Minister) Micheál Martin wrote on social media: "Now is the time for the two governments and leaders on all sides to work together to defuse tensions and restore calm."
All of the main political parties in Northern Ireland have criticised the disorder but they are divided over its causes.
However, after an emergency meeting of the Northern Ireland Executive, a joint statement was issued from ministers, saying they were "gravely concerned" by the recent disorder.
"Attacks on police officers, public services and communities are deplorable and they must stop," they said.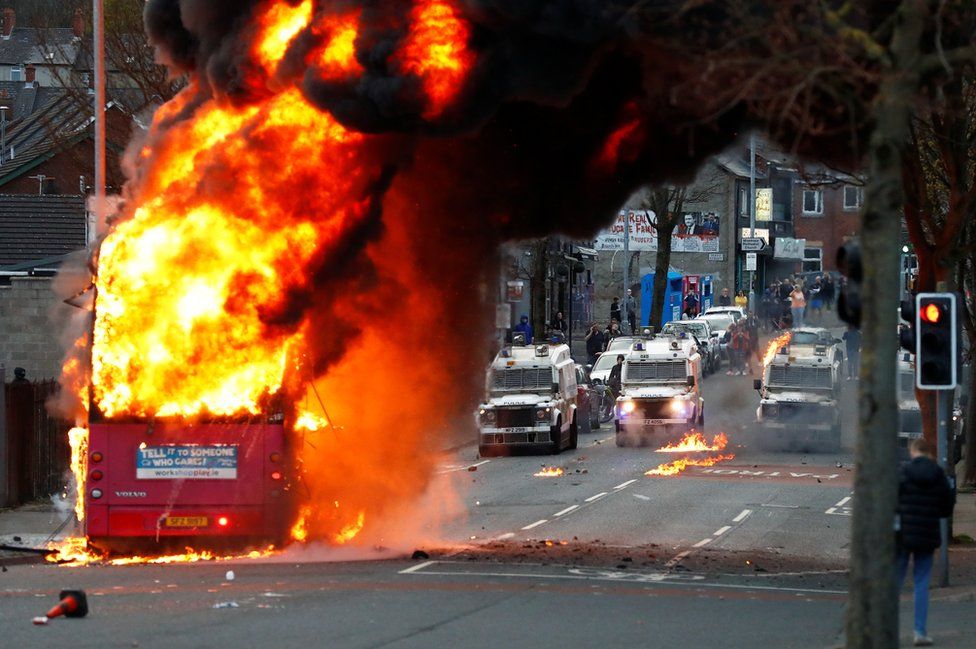 "Destruction, violence and the threat of violence are completely unacceptable and unjustifiable, no matter what concerns may exist in communities.
"Those who would seek to use and abuse our children and young people to carry out these attacks have no place in our society."
The violence has been brought on by a combination of factors.
Northern Ireland politics and bigger events like Brexit are all in play here but there is no single straightforward reason.
There is a lot of fury over the attendance of Sinn Féin politicians at a funeral of a former IRA leader last summer which appeared to blatantly flout Covid-19 rules.
Sinn Féin's most senior politicians, among long lines of former IRA members, walked through the streets behind a cortege at a time when many people missed attending funerals for their own loved ones.
"Republicans do what they like and get away with it" has broadly become one of the narratives being used to justify trouble against the police.
However there were also loyalist funerals which broke rules during the pandemic.
Brexit has been creating tension in loyalist communities for months, with the growing realisation over just how differently Northern Ireland is now being treated from the rest of the UK.
Signs of anger over the new Irish Sea trade border are plastered on walls and lampposts in unionist and loyalist areas.
In these areas it feels that Boris Johnson has betrayed Northern Ireland and there is a backlash.
But that isn't all – there are much more localised issues too.
Loyalist paramilitaries have been subject to a series of raids and arrests for their criminal activities and police believe in some areas these are the figures in the background helping to encourage trouble.
Unionist political leaders – including Democratic Unionist Party (DUP) leader and First Minister Arlene Foster – have said PSNI Chief Constable Simon Byrne should resign over the force's handling of the funeral of senior republican Bobby Storey in June 2020.
Last week a decision was made not to prosecute senior Sinn Féin members who attended the funeral.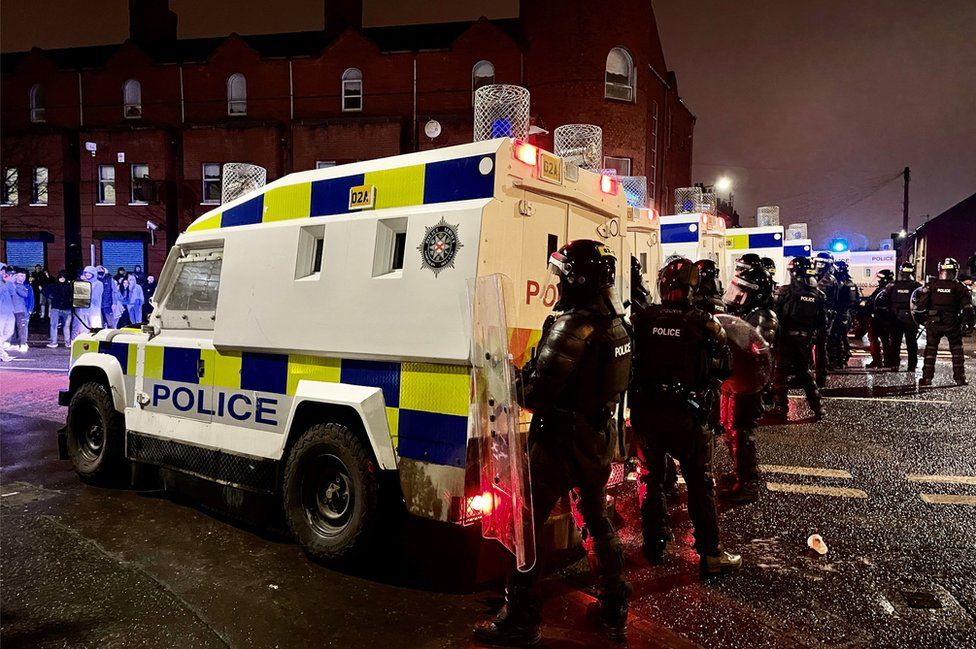 Mrs Foster tweeted on Thursday morning that she had spoken to Mr Byrne in the wake of the violence, as did Sinn Féin president Mary Lou McDonald.
The first minister had faced criticism for not speaking to the chief constable after the violence on previous days.
It is understood she and another member of her party received a 10-minute briefing from Mr Byrne by conference call after the party was approached by the chief constable.
Mrs Foster has described the violence as "an embarrassment to Northern Ireland" and said her thoughts were with the officers injured by the "unjustified and unjustifiable violence of recent days".
Sinn Féin, the SDLP, and the Alliance Party have accused unionist politicians of ramping up rhetoric in recent days by calling for Mr Byrne to stand down.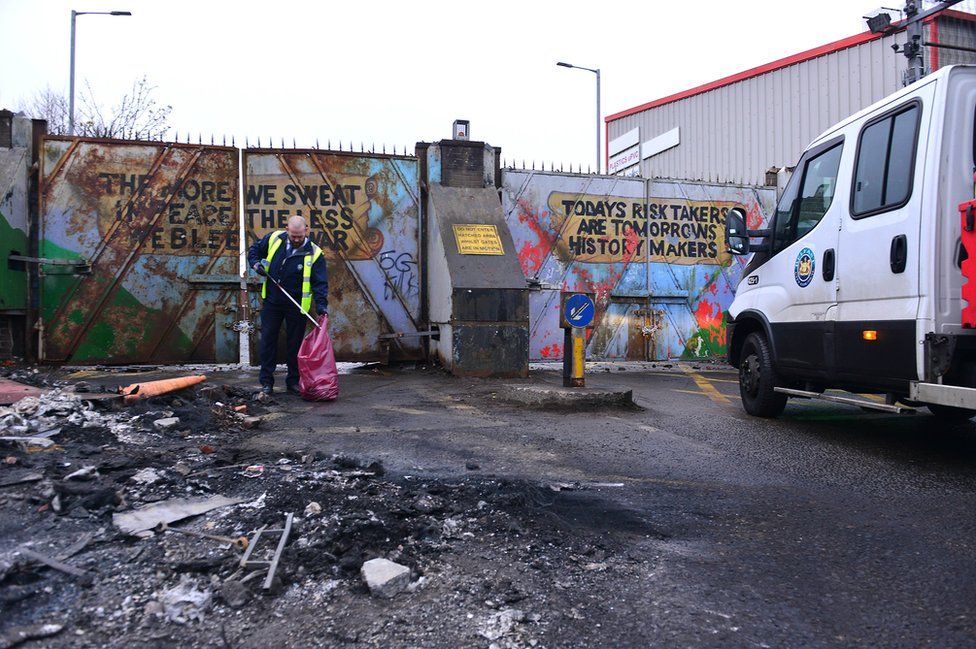 Mark Lindsay, the chairman of the Police Federation, which represents rank and file officers, said removing the chief constable "in the middle of a crisis" would not be helpful, although he said there were "serious issues that need to be addressed".
"The police officers on the ground – to be honest it doesn't have an awful lot of impact on them who their chief constable is – they take their direction from lower down the command chain," he said.
"So it's for politicians to decide and for the chief constable himself to decide."
It is understood Mr Byrne briefed the Stormont executive and the individual parties on Thursday morning.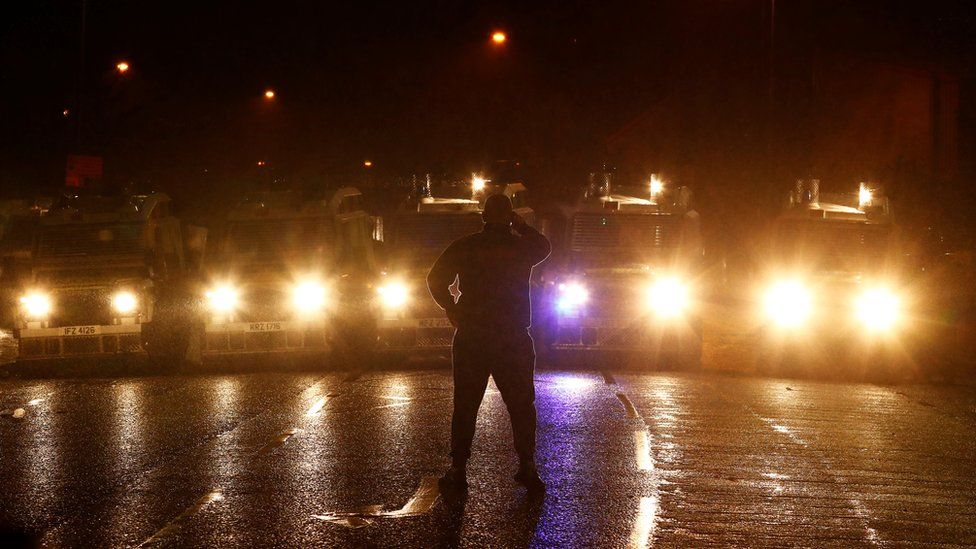 On Thursday the Northern Ireland Assembly was recalled for politicians to consider a motion calling for an "immediate and complete end" to violence in loyalist areas.
The motion brought by Alliance Party asked assembly members to unequivocally condemn those involved and support the rule of law – it was supported by all of the parties.
Mrs Foster said the violent scenes were unacceptable.
"Northern Ireland is faced with a number of deep and significant political challenges in the time ahead, and collectively we must work through those challenges," she said.
Deputy First Minister Michelle O'Neill of Sinn Féin said the violence in Belfast on Wednesday night was a "dangerous escalation" of events.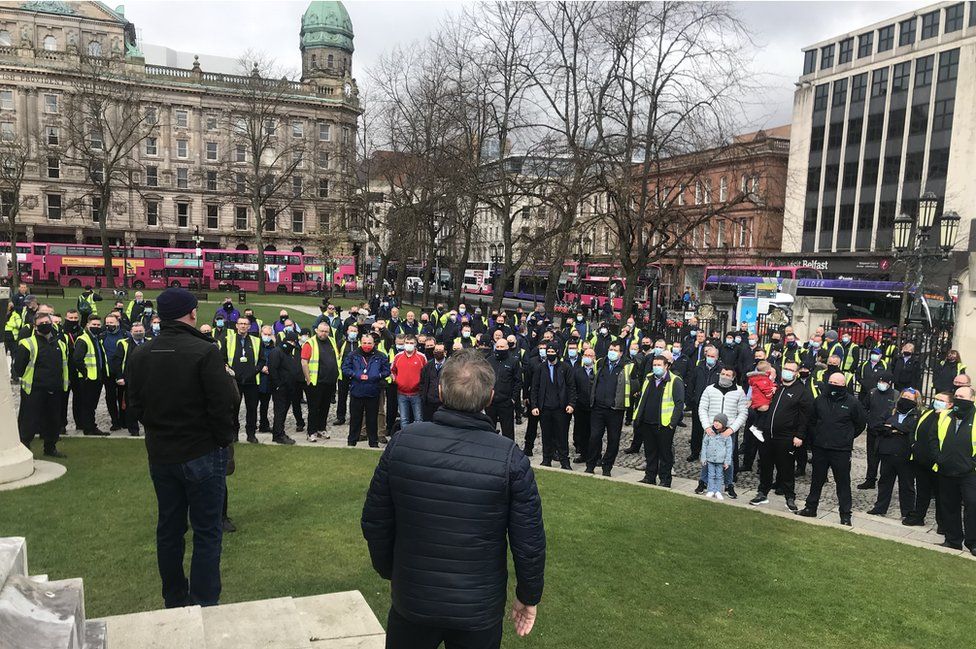 "Our words are powerful and it is important at this time that the executive has sent out that united front," she said.
"There is an onus on every single MLA and other public representatives to address the tensions as we see them, to restore calm and to work with those credible community leaders and the police to provide leadership to confront these problems."
The assembly recall was proposed by Alliance Party leader and Justice Minister Naomi Long.
She said she felt ill "listening to adults clapping, cheering, goading young children to put their lives at risk" during the violence.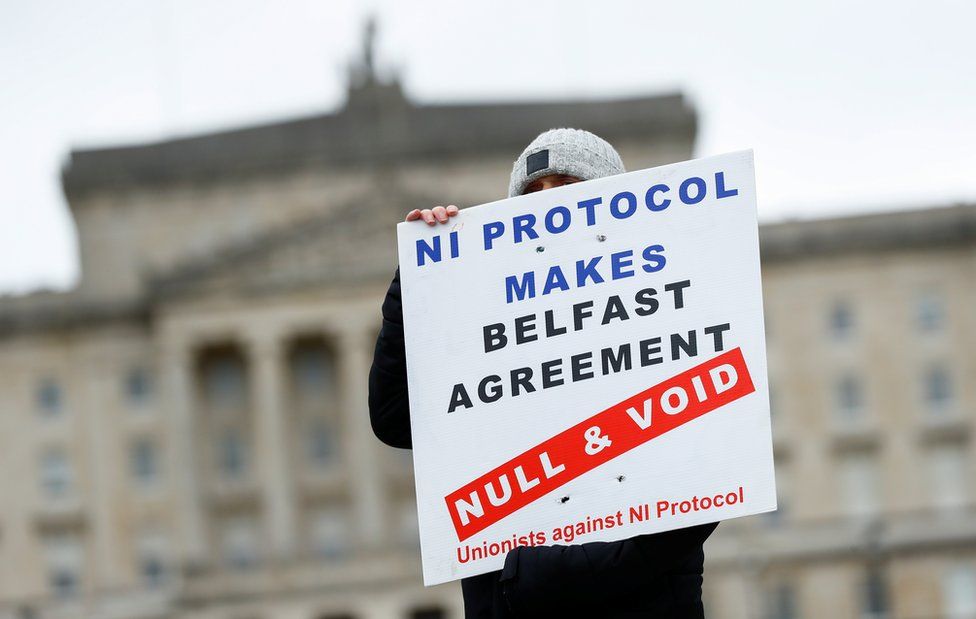 "We need to step up to the plate as political representatives and talk about the political solutions to those problems as well as condemning the violence," she said.
SDLP leader and Foyle MP Colum Eastwood described the violent scenes as disgusting.
"We need to tone down the rhetoric, we need to come together and discuss the problems," he said.
"There clearly has been tensions building, I think, frankly since Brexit."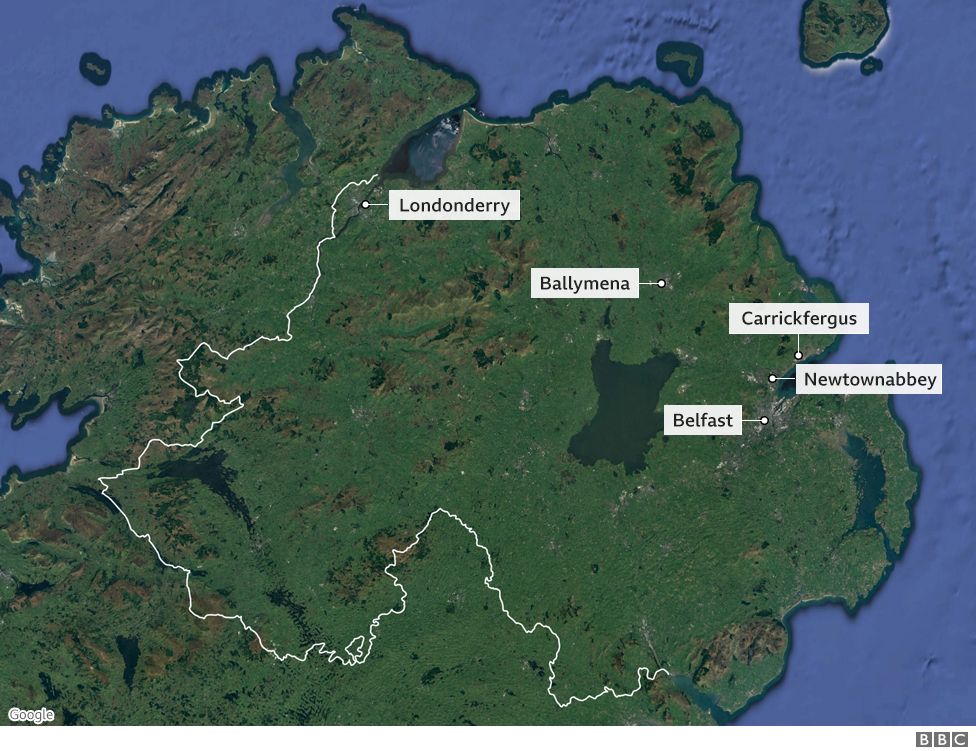 Ulster Unionist Party (UUP) leader Steve Aiken, who also called for the chief constable to resign last week, met Mr Byrne on Thursday.
Afterwards, Mr Aiken said the images of the police coming under attack "were a chilling throwback to several decades ago".
"Anyone with influence must speak out now to support the police and to do everything possible to reduce tensions."
BBC.COM