Coronavirus: France calls on US to drop vaccine export bans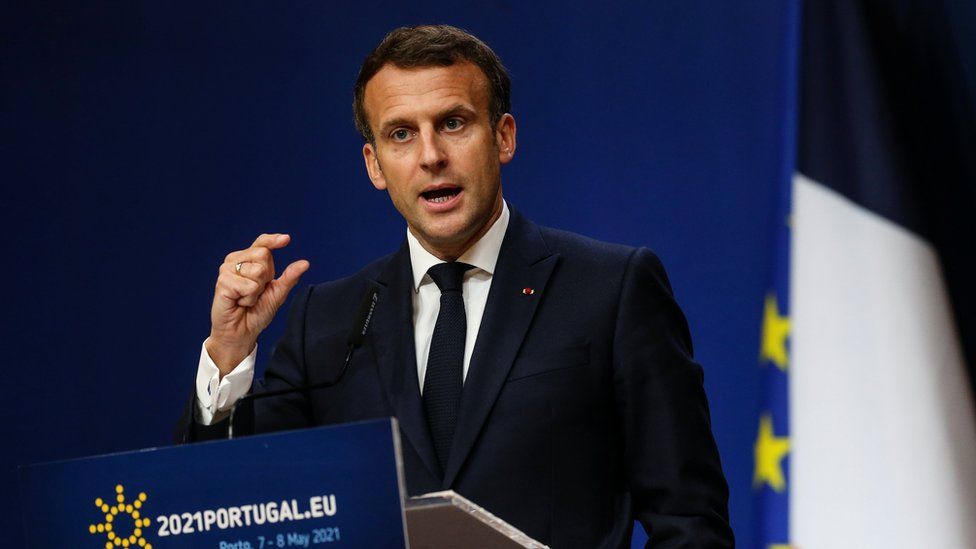 French President Emmanuel Macron has called on the US to drop its restrictions on the export of Covid-19 vaccines and ingredients.
His words came as a divide emerged between parts of Europe and the US over how best to increase global vaccine production.
Currently, around 1.25bn doses have been administered around the world.
However, less than 1% have been given to the world's 29 poorest countries, according to news agency AFP.
Rich countries, by contrast, are speeding up their vaccination campaigns. In the UK , 67% of the population has received a first dose and in the US 56% of those eligible have had one jab.
On Friday, the EU agreed to purchase 900 million more doses of Pfizer/BioNTech vaccine, with the option for 900 million more
Patent waiver versus export bans
South Africa and India argue that surrendering patents would mean the secret vaccine recipes would be released and other countries could start producing the life-saving jabs, potentially lowering the cost. India is currently in the grip of a devastating second wave, which yesterday alone left more than 4,000 people dead.
This week the US backed the proposed waiver.
The plan also has the support of the World Health Organization (WHO) and Pope Francis, who said on Saturday the world was infected with the "virus of individualism", with "the laws of… intellectual property" put "over the laws of love and the health of humanity".
Indian Prime Minister Narendra Modi had hoped to get the European Union's support, speaking to leaders who had gathered together on Saturday via video call.
However, he failed to secure the backing he sought, with EU leaders remaining sceptical. Mr Macron argued increasing exports and production was the best way to solve the crisis.
"The key to produce vaccines more rapidly for all poor countries or intermediate countries is to produce more," Mr Macron said.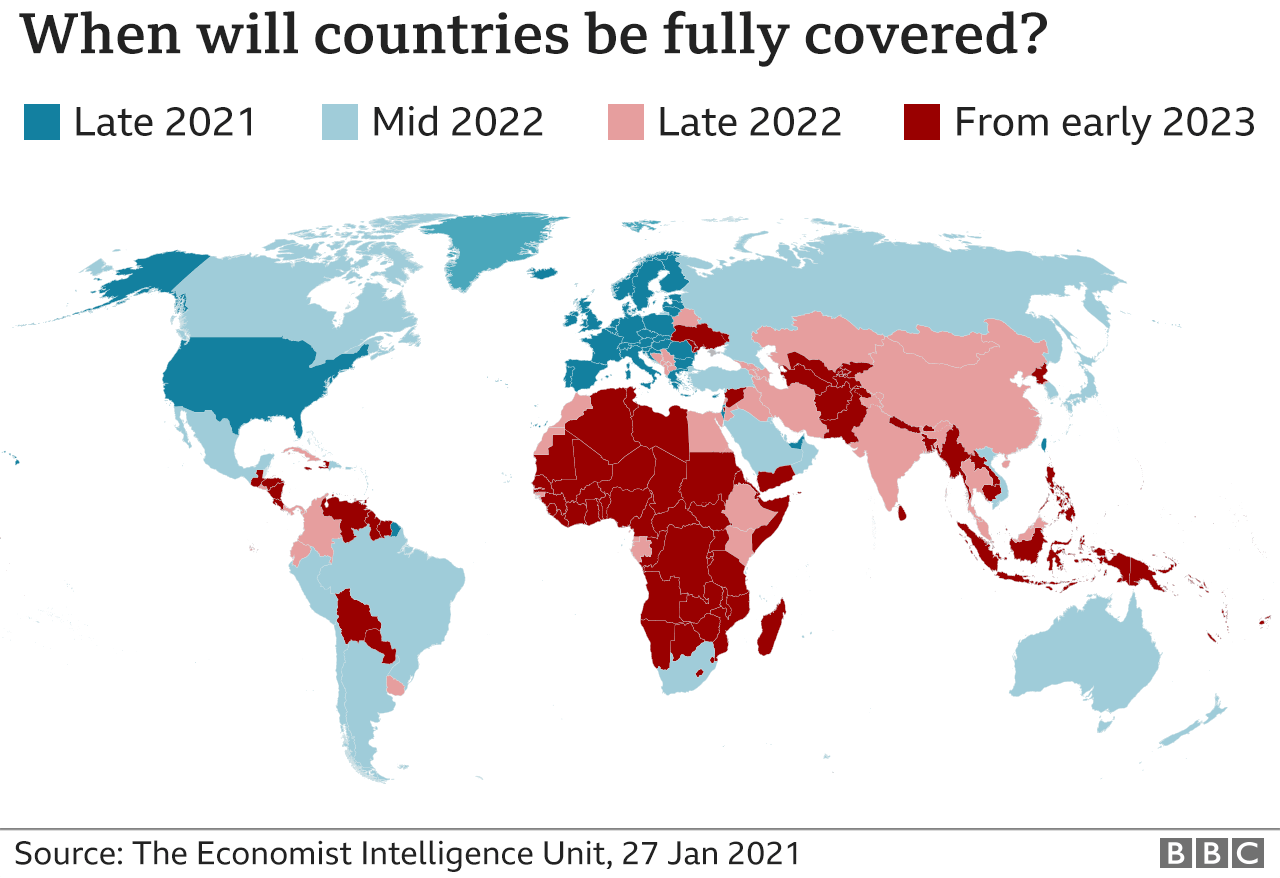 He singled out the US in particular, calling on it to "put an end to export bans not only on vaccines but on vaccine ingredients, which prevent production".
On Friday, Mr Macron had pointed to the fact that, so far, "100% of the vaccines produced in the United States are for the American market".
The US – which has pledged to donate 60 million doses from its stockpile of AstraZeneca in the coming months – has imposed curbs on the export of the raw materials needed to produce the vaccines.
Mr Macron noted the UK had also placed restrictions on vaccine exports. Prime Minister Boris Johnson has previously denied there is a ban, however publicly available information suggests vaccines are not being exported from the UK.
Germany and European Commission President Ursula von der Leyen have voiced opposition to a waiver.
Ms von der Leyen told reporters waiving intellectual property patents would "not bring a single dose of vaccine in the short- and medium-term", while Germany said it was not patents which were hindering production.
Others have pointed to other issues with the waiver plan, which critics say strips financial rewards from cutting-edge drug developers.
For example, BioNTech, the German company which partnered with Pfizer, say validating production sites to produce its vaccine can take up to a year.
What is intellectual property?
Intellectual property describes creations, such as inventions, which are protected by patents, copyrights and trademarks. These prevent copying and allow the originator to be financially rewarded.
Patents give innovating firms a short-term monopoly on production to cover the costs of development and encourage investment.
Biotech firms argue that such protection has provided incentives to produce Covid vaccines in record times.
bbc.com
WATCH: Black mermaid caught by Indonesian fishermen
Some Indonesian Fishermen have caught a real black mermaid while fishing.
In the video shared online, the mermaid was seen tired and exhausted as it was still wrapped in the big fishing net.
Recall that some researchers have been trying to lay their hands on a mermaid to know if they are true or just some superstitions.
Watch the video below;
Attention given to Macron slap unfair – French Ambassador to Ghana
The French Ambassador to Ghana Ann-Sophie Avé says the attention given to the assault on French President Emmanuel Macron is unfair.
Her Excellency Avé said the embarrassing incident should not have happened when there are other means to channel grievances in the European country.
Speaking to Francis Abban on the Morning Starr Tuesday Ambassador Avé said the outrageous action of the assailant should not have been given attention.
"France as a state has been struggling so much to promote solidarity and support for Africa economy, a slap from a maroon whose IQ is under the sea level should not change the image of France, this incident has served a terrible image of France all over the world. This is quite unfair," she said.
She added " It was someone who needed 15 seconds of celebrity but this is outrageous. In a democracy, you vote people out if you don't like their governance. It is giving him the celebrity he does not deserve which is unfair."
President Macron was slapped in the face on an official visit to the southeast of France.
In a video that circulated on social media, Mr Macron was seen walking up to a barrier on a trip to Tain-l'Hermitage outside the city of Valence.
A man slaps Mr Macron in the face before officers quickly move in. The president, meanwhile, was pulled away.
Two men were arrested in the wake of the incident, according to French media. As the president was slapped, the words "Down with Macron-ism" were shouted.
Politicians swiftly denounced the incident.
Meet The 76-year-old Man With 38 Wives, 94 Children And 33 Grandchildren
Ziona Chana, the head of a religious sect that practiced polygamy, died on Sunday, leaving behind 38 wives, 94 children and 36 grandchildren.
Chana reportedly suffered from diabetes and hypertension.
Doctors said Chana's condition deteriorated at home in his village, Baktawng Tlangnuam.
He was admitted to hospital on Sunday evening, where he was declared dead on arrival.
It's hard to say if Chana was indeed the head of the world's largest family since there are others who claim the title.
It's also hard to estimate the exact size of Chana's family. At least one report claims he had 39 wives, 94 children, 33 grandchildren and one great-grandchild, which adds up to 181 people.
Chana and his family are a local sensation of sorts, attracting tourists to their village in India's north-east, visit
and Chana's extrordinary life has grabbed several headlines over the years.
The enormous family lives together in a four-storied house called "Chuuar Than Run" or New Generation House, with 100 rooms.
His wives share a dormitory near Chana's private bedroom.
The mansion is a major tourist attraction in the state, with people from around the world thronging the village to get a peek into the family's lifestyle.
Chana was born in 1945. He met his oldest wife, who is three years older than him when he was 17.
Source: Ghanaarticles.com