Israel Gaza conflict: Netanyahu vows to continue strikes
Israeli air strikes in Gaza killed at least three Palestinians early on Sunday, health officials said.
Palestinian militants fired rockets towards Tel Aviv, causing people there to flee to bomb shelters.
The international community has called for an end to the escalating conflict.
On Saturday, US President Joe Biden phoned Mr Netanyahu and Palestinian President Mahmoud Abbas to express concern about the situation.
A UN Security Council meeting is set to take place later on Sunday.
Since the fighting began on Monday at least 148 people have been killed in Gaza, according to Palestinian officials, and Israel has reported 10 dead, including two children. Israel says dozens of militants are among the dead in Gaza, while Palestinian health officials say their death toll includes 41 children.
Speaking in a televised address late on Saturday, Mr Netanyahu said the strikes would continue for "as long as necessary" and that everything possible was being done to limit civilian casualties.
"The party that bears the guilt for this confrontation is not us, it's those attacking us," said Mr Netanyahu.
The flare-up of violence over the last six days came after weeks of increasing Israeli-Palestinian tension in East Jerusalem, which culminated in clashes at a holy site revered by both Muslims and Jews. Hamas – the Palestinian militant group that runs Gaza – began firing rockets after warning Israel to withdraw from the site, triggering retaliatory air strikes.
How did the fighting escalate on Saturday?
Ten members of one family were killed by an Israeli air strike at a refugee camp west of Gaza City.
A five-month-old baby, Omar Al-Hadidi, was the only survivor, after his mother, four siblings, aunt and four cousins died.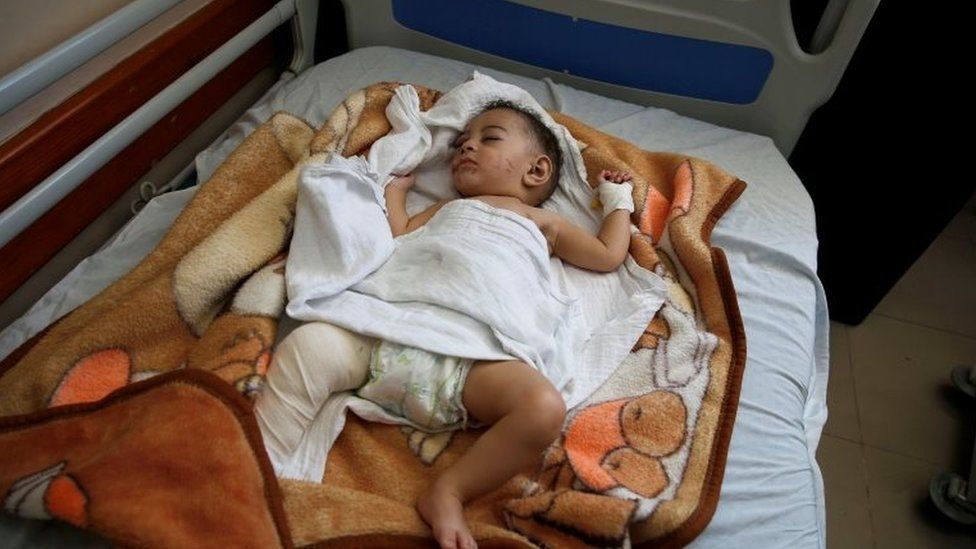 The baby's father, Mohammad Al-Hadidi, was not at home at the time. "There were no rockets there, just women and children, no rockets, just peaceful children celebrating [Muslim festival] Eid, what have they done to deserve this?" he told Reuters news agency.
A doctor treating Omar said: "He was in a bad condition. His thigh bone is broken and he has bruises all over his body but thankfully after first inspection he is stable."
The Israel Defense Forces (IDF) said Palestinian militants had launched 278 rockets from Gaza, with homes hit in the southern cities of Ashdod, Beersheba and Sderot.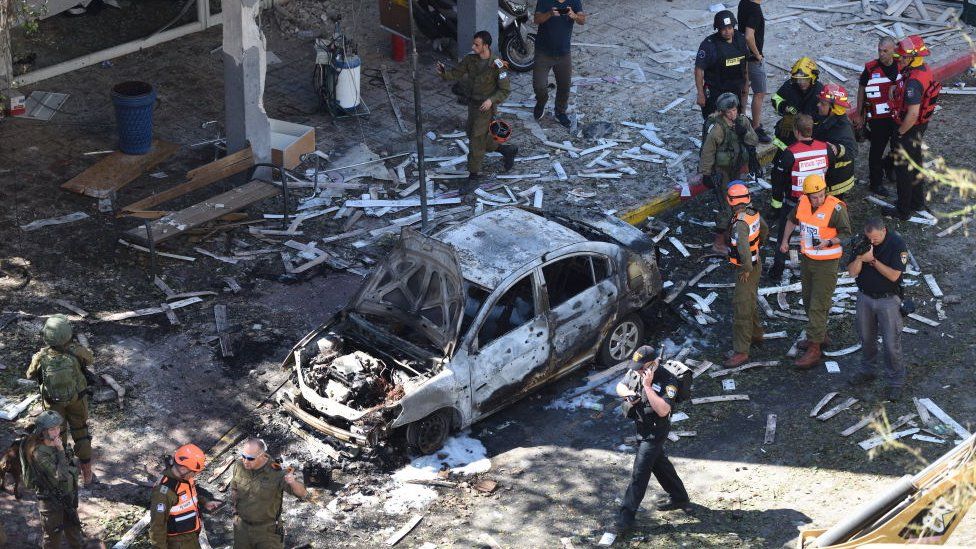 A rocket hit a street in Ramat Gan, a suburb of Tel Aviv, killing a man. He was reportedly hit by shrapnel in his apartment.
What happened to the Gaza tower block?
Earlier on Saturday, an Israeli air strike destroyed a high-rise building housing media organisations, including The Associated Press and Al-Jazeera, plus a number of offices and apartments.
In a statement released shortly afterwards, the Israeli military said the building had housed military assets belonging to Hamas. The building's landlord has denied this.
UN Secretary General Antonio Gutteres said he was "deeply disturbed" by the strike on the building.
"The secretary-general reminds all sides that any indiscriminate targeting of civilian and media structures violates international law and must be avoided at all costs," his spokesman said.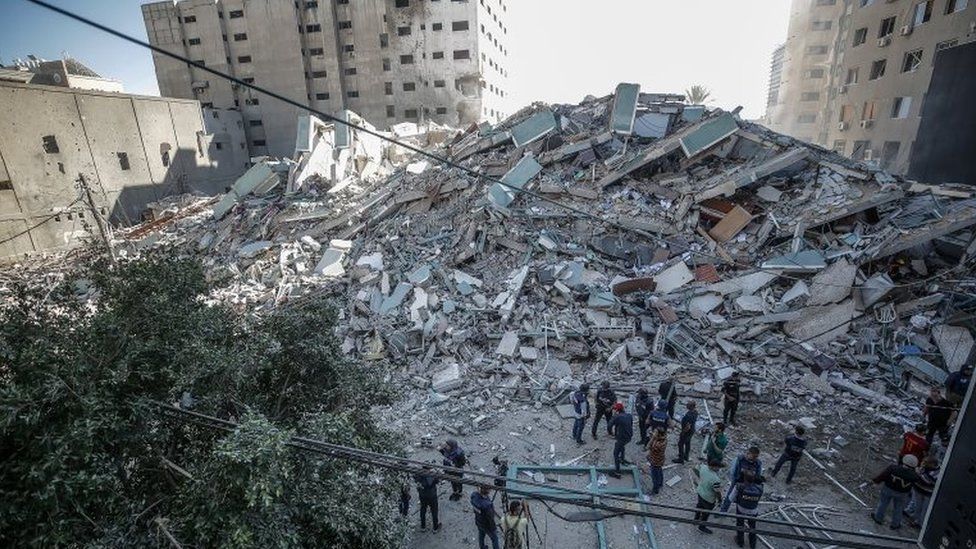 The Associated Press (AP) said the block had been hit roughly an hour after Israeli forces ordered people to evacuate.
The news organisation's CEO, Gary Pruitt, said: "This is an incredibly disturbing development. We narrowly avoided a terrible loss of life. A dozen AP journalists and freelancers were inside the building and thankfully we were able to evacuate them in time."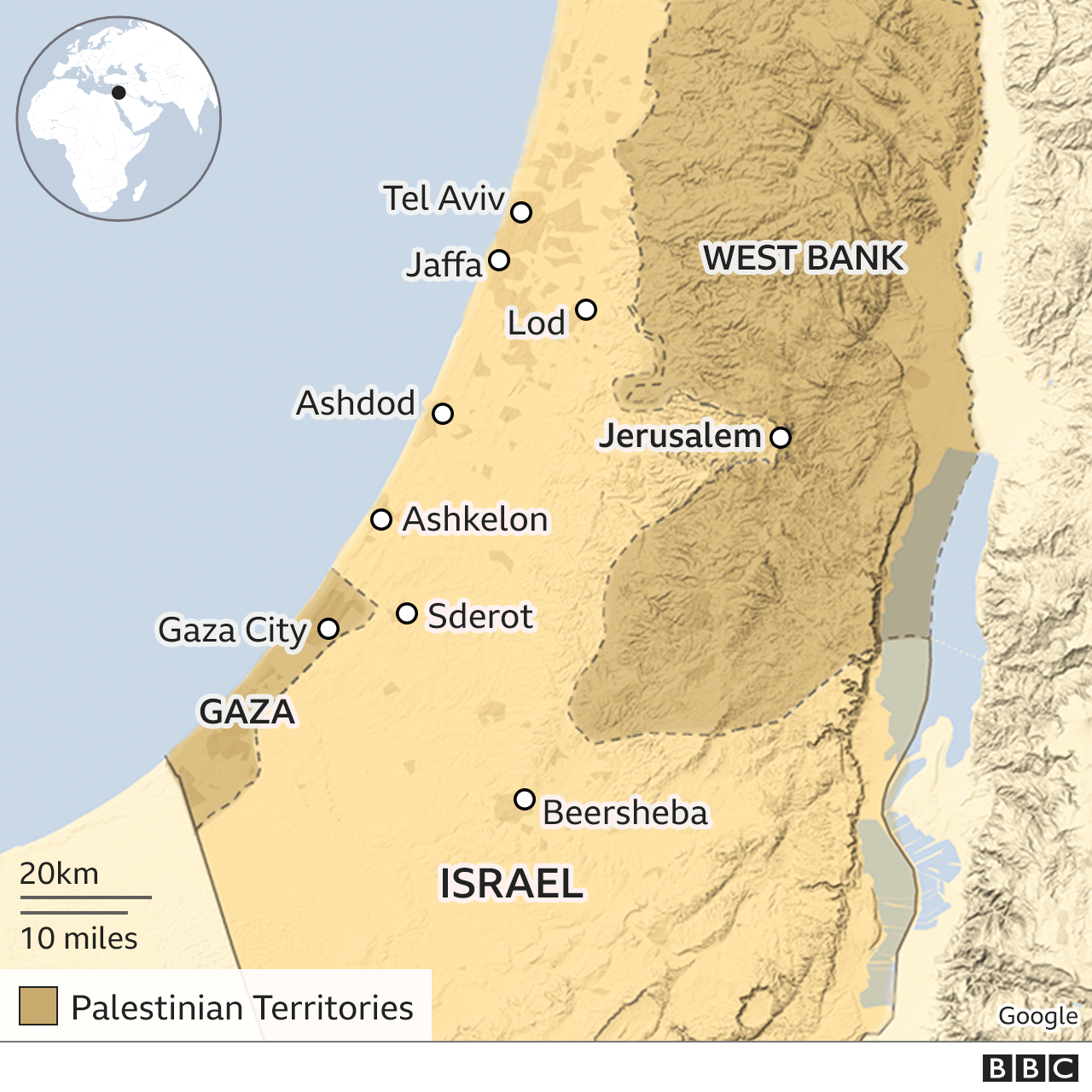 What was said in Biden's phone calls?
President Biden told Prime Minister Netanyahu he continued to support Israel's right to defend itself, the White House said. He expressed concern over deaths on both sides and, following the tower-block strike, called for journalists to be protected.
Mr Biden also spoke, for the first time since taking office, with President Abbas, telling him he was committed to "strengthening the US-Palestinian partnership". He also said the Hamas rocket fire into Israel had to stop.
President Abbas, who is based in the occupied West Bank, has little power in Hamas-run Gaza but the US will not speak to Hamas, regarded as a terrorist organisation.
Mr Biden told both leaders he remained committed to finding a two-state solution to the conflict.
US envoy Hady Amir is in Tel Aviv to take part in talks with Israeli, Palestinian and UN officials, and reinforce what US diplomats said was the need for a "sustainable calm".
WATCH: Black mermaid caught by Indonesian fishermen
Some Indonesian Fishermen have caught a real black mermaid while fishing.
In the video shared online, the mermaid was seen tired and exhausted as it was still wrapped in the big fishing net.
Recall that some researchers have been trying to lay their hands on a mermaid to know if they are true or just some superstitions.
Watch the video below;
Attention given to Macron slap unfair – French Ambassador to Ghana
The French Ambassador to Ghana Ann-Sophie Avé says the attention given to the assault on French President Emmanuel Macron is unfair.
Her Excellency Avé said the embarrassing incident should not have happened when there are other means to channel grievances in the European country.
Speaking to Francis Abban on the Morning Starr Tuesday Ambassador Avé said the outrageous action of the assailant should not have been given attention.
"France as a state has been struggling so much to promote solidarity and support for Africa economy, a slap from a maroon whose IQ is under the sea level should not change the image of France, this incident has served a terrible image of France all over the world. This is quite unfair," she said.
She added " It was someone who needed 15 seconds of celebrity but this is outrageous. In a democracy, you vote people out if you don't like their governance. It is giving him the celebrity he does not deserve which is unfair."
President Macron was slapped in the face on an official visit to the southeast of France.
In a video that circulated on social media, Mr Macron was seen walking up to a barrier on a trip to Tain-l'Hermitage outside the city of Valence.
A man slaps Mr Macron in the face before officers quickly move in. The president, meanwhile, was pulled away.
Two men were arrested in the wake of the incident, according to French media. As the president was slapped, the words "Down with Macron-ism" were shouted.
Politicians swiftly denounced the incident.
Meet The 76-year-old Man With 38 Wives, 94 Children And 33 Grandchildren
Ziona Chana, the head of a religious sect that practiced polygamy, died on Sunday, leaving behind 38 wives, 94 children and 36 grandchildren.
Chana reportedly suffered from diabetes and hypertension.
Doctors said Chana's condition deteriorated at home in his village, Baktawng Tlangnuam.
He was admitted to hospital on Sunday evening, where he was declared dead on arrival.
It's hard to say if Chana was indeed the head of the world's largest family since there are others who claim the title.
It's also hard to estimate the exact size of Chana's family. At least one report claims he had 39 wives, 94 children, 33 grandchildren and one great-grandchild, which adds up to 181 people.
Chana and his family are a local sensation of sorts, attracting tourists to their village in India's north-east, visit
and Chana's extrordinary life has grabbed several headlines over the years.
The enormous family lives together in a four-storied house called "Chuuar Than Run" or New Generation House, with 100 rooms.
His wives share a dormitory near Chana's private bedroom.
The mansion is a major tourist attraction in the state, with people from around the world thronging the village to get a peek into the family's lifestyle.
Chana was born in 1945. He met his oldest wife, who is three years older than him when he was 17.
Source: Ghanaarticles.com