Kabul attack: Blast near school leaves at least 30 dead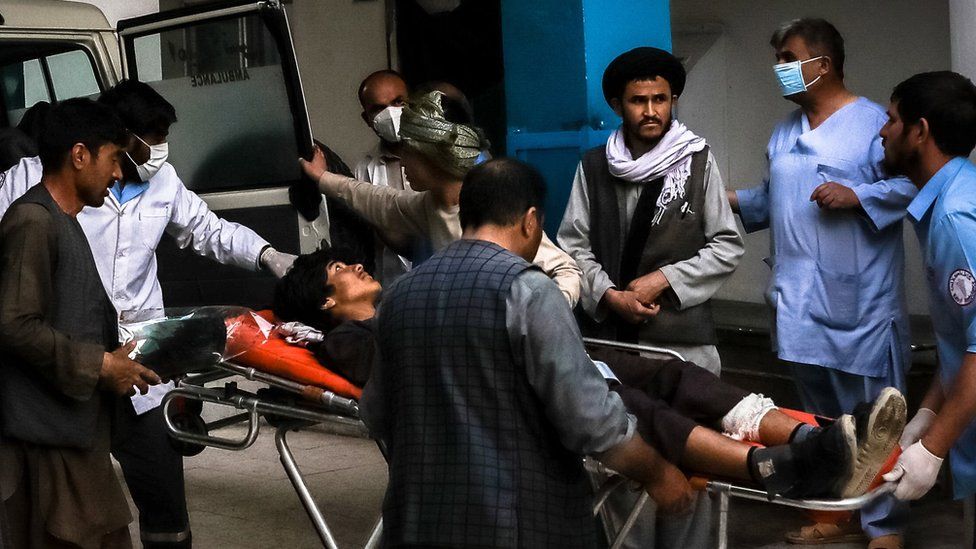 A blast close to a secondary school in the Afghan capital Kabul has left at least 30 people dead and dozens more injured, officials have said.
The explosion took place as students were leaving the building on Saturday, with pictures on social media showing abandoned school bags in the street.
Most of those hurt were girls, a ministry of education spokeswoman said.
No-one has admitted carrying out the attack in Dasht-e-Barchi – an area often hit by Sunni Islamist militants.
The neighbourhood is home to many from the Hazara minority community, who are of Mongolian and Central Asian descent and are mainly Shia Muslims.
Almost exactly a year ago, a maternity unit at the local hospital was attacked, leaving 24 women, children and babies dead.
The exact target for Saturday's attack is unclear.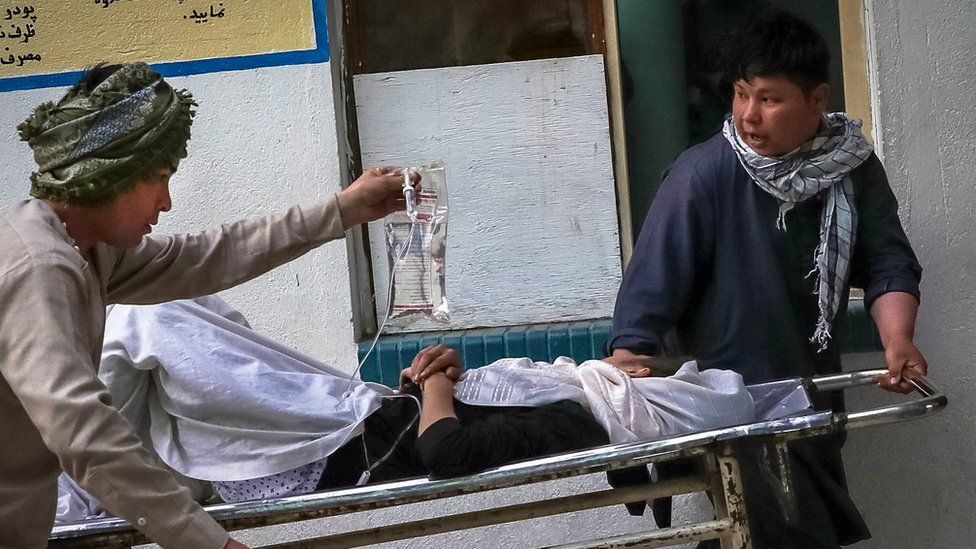 Reports from the city say it was busy with shoppers ahead of this year's celebrations for Eid al-Fitr next week.
Students were also streaming from the school. Najiba Arian, ministry of education spokeswoman, told Reuters news agency the government-run school was open to boys and girls.
Most of the those hurt were girls, who study in the second of three sessions, according to Ms Arian.
Several witnesses described hearing three separate explosions, while one woman told AFP news agency she had seen "many bloodied bodies in dust and smoke".
"I saw a woman checking the bodies and calling for her daughter," the woman, Reza, said. "She then found her daughter's bloodstained purse after which she fainted and fell to the ground."
The European Union's mission in Afghanistan said on Twitter that "targeting primarily students in a girls' school, makes this an attack on the future of Afghanistan".
The attack comes against a backdrop of rising violence as the US looks to withdraw all its troops from the country by 11 September.
Analysis by Secunder Kermani, Afghanistan correspondent
So many places in Afghanistan have endured so much pain, but the Dasht-e-Barchi neighbourhood in Kabul has suffered horrendously.
The neighbourhood is populated by members of Afghanistan's Hazara ethnic minority. As followers of Shia Islam, the Islamic State group (IS) views them as heretics, and has carried out a vicious campaign, attacking the softest of targets.
Dozens have been killed in bombings at sports halls, cultural centres, and places of education in particular.
Last year, and in 2018, IS suicide bombers struck tuition centres in the area killing more than 70 people. IS is not part of the peace talks between the Taliban and Afghan government, which in any case are currently stalled.
As of yet, there's been no claim for the attack on Saturday. However, IS continues to carry out assassinations and bombings in Kabul and the city of Jalalabad, despite having recently lost much of the territory it once controlled in the east of the country.
bbc.com
WATCH: Black mermaid caught by Indonesian fishermen
Some Indonesian Fishermen have caught a real black mermaid while fishing.
In the video shared online, the mermaid was seen tired and exhausted as it was still wrapped in the big fishing net.
Recall that some researchers have been trying to lay their hands on a mermaid to know if they are true or just some superstitions.
Watch the video below;
Attention given to Macron slap unfair – French Ambassador to Ghana
The French Ambassador to Ghana Ann-Sophie Avé says the attention given to the assault on French President Emmanuel Macron is unfair.
Her Excellency Avé said the embarrassing incident should not have happened when there are other means to channel grievances in the European country.
Speaking to Francis Abban on the Morning Starr Tuesday Ambassador Avé said the outrageous action of the assailant should not have been given attention.
"France as a state has been struggling so much to promote solidarity and support for Africa economy, a slap from a maroon whose IQ is under the sea level should not change the image of France, this incident has served a terrible image of France all over the world. This is quite unfair," she said.
She added " It was someone who needed 15 seconds of celebrity but this is outrageous. In a democracy, you vote people out if you don't like their governance. It is giving him the celebrity he does not deserve which is unfair."
President Macron was slapped in the face on an official visit to the southeast of France.
In a video that circulated on social media, Mr Macron was seen walking up to a barrier on a trip to Tain-l'Hermitage outside the city of Valence.
A man slaps Mr Macron in the face before officers quickly move in. The president, meanwhile, was pulled away.
Two men were arrested in the wake of the incident, according to French media. As the president was slapped, the words "Down with Macron-ism" were shouted.
Politicians swiftly denounced the incident.
Meet The 76-year-old Man With 38 Wives, 94 Children And 33 Grandchildren
Ziona Chana, the head of a religious sect that practiced polygamy, died on Sunday, leaving behind 38 wives, 94 children and 36 grandchildren.
Chana reportedly suffered from diabetes and hypertension.
Doctors said Chana's condition deteriorated at home in his village, Baktawng Tlangnuam.
He was admitted to hospital on Sunday evening, where he was declared dead on arrival.
It's hard to say if Chana was indeed the head of the world's largest family since there are others who claim the title.
It's also hard to estimate the exact size of Chana's family. At least one report claims he had 39 wives, 94 children, 33 grandchildren and one great-grandchild, which adds up to 181 people.
Chana and his family are a local sensation of sorts, attracting tourists to their village in India's north-east, visit
and Chana's extrordinary life has grabbed several headlines over the years.
The enormous family lives together in a four-storied house called "Chuuar Than Run" or New Generation House, with 100 rooms.
His wives share a dormitory near Chana's private bedroom.
The mansion is a major tourist attraction in the state, with people from around the world thronging the village to get a peek into the family's lifestyle.
Chana was born in 1945. He met his oldest wife, who is three years older than him when he was 17.
Source: Ghanaarticles.com