UK Government asks Queen Elizabeth to suspend Parliament
The government has asked the Queen to suspend Parliament just days after MPs return to work in September – and only a few weeks before the Brexit deadline.
Boris Johnson said a Queen's Speech would take place after the suspension, on 14 October, to outline his "very exciting agenda".
But it means the time MPs have to pass laws to stop a no-deal Brexit on 31 October would be cut.
House of Commons Speaker John Bercow said it was a "constitutional outrage".
The speaker, who does not traditionally comment on political announcements, added: "However it is dressed up, it is blindingly obvious that the purpose of [suspending Parliament] now would be to stop [MPs] debating Brexit and performing its duty in shaping a course for the country."
Senior Tory backbencher Dominic Grieve called the move "an outrageous act" and warned it could lead to a vote of no confidence in Mr Johnson, adding: "This government will come down."
The PM, though, said suggestions the suspension was motivated by a desire to force through a no-deal were "completely untrue".
He said he did not want to wait until after Brexit "before getting on with our plans to take this country forward", and insisted there would still be "ample time" for MPs to debate the UK's departure.
"We need new legislation. We've got to be bringing forward new and important bills and that's why we are going to have a Queen's Speech," he added.
The idea of shutting down Parliament – known as prorogation – has caused controversy, with critics saying it would stop MPs being able to play their democratic part in the Brexit process.
A number of high profile figures, including former Prime Minister John Major, have threatened to go to the courts to stop it, and a legal challenge led by the SNP's justice spokeswoman, Joanna Cherry, is already working its way through the Scottish courts.
BBC royal correspondent Jonny Dymond said it was established precedent to prorogue Parliament before a Queen's Speech, albeit generally more briefly, and rarely, if ever, at such a constitutionally charged time.
He said it was "Her Majesty's Government" in name only and it was her role, constitutionally, to take the advice of her ministers, so she would prorogue Parliament if asked to.
But Mr Bercow said it would be "an offence against the democratic process and the rights of Parliamentarians as the people's elected representatives".
He added: "Surely at this early stage in his premiership, the prime minister should be seeking to establish rather than undermine his democratic credentials and indeed his commitment to Parliamentary democracy."


This has been an extraordinarily long Parliamentary session, and governments have the right to shut up shop and return to announce their proposals in a new one, with all the golden carriages, fancy Westminster costumes, banging of doors and splendour that goes with it.
But that new timetable means Parliament will be suspended for longer than had been expected – it's only a matter of days, but those are days that might matter enormously.
Boris Johnson secured his place in No 10 by promising he'd do whatever it takes to leave the EU at Halloween, so this decisive and intensely risky plan will satisfy many of those who backed him.
But some others in his government are worried – moving now, even with the accompanying controversy, he sets the stage and the terms for an epic fight with MPs on all sides.
Read more from Laura

The PM says he wants to leave the EU on 31 October with a deal, but it is "do or die" and he is willing to leave without one rather than miss the deadline.
That position has prompted a number of opposition MPs to come together to try to block a possible no deal, and on Tuesday they announced that they intended to use parliamentary process to do so.
Although they remained tight lipped about the exact plan, it was thought Labour leader Jeremy Corbyn would call for an emergency debate in the Commons next week, giving MPs a chance to lay down legislation designed to ultimately stop a no-deal exit.
But if Parliament is suspended on 10 September, as is suggested, it will only give opponents a few days next week to push for their changes.
Scotland's First Minister Nicola Sturgeon said MPs must come together to stop the plan next week, or "today will go down in history as a dark one indeed for UK democracy".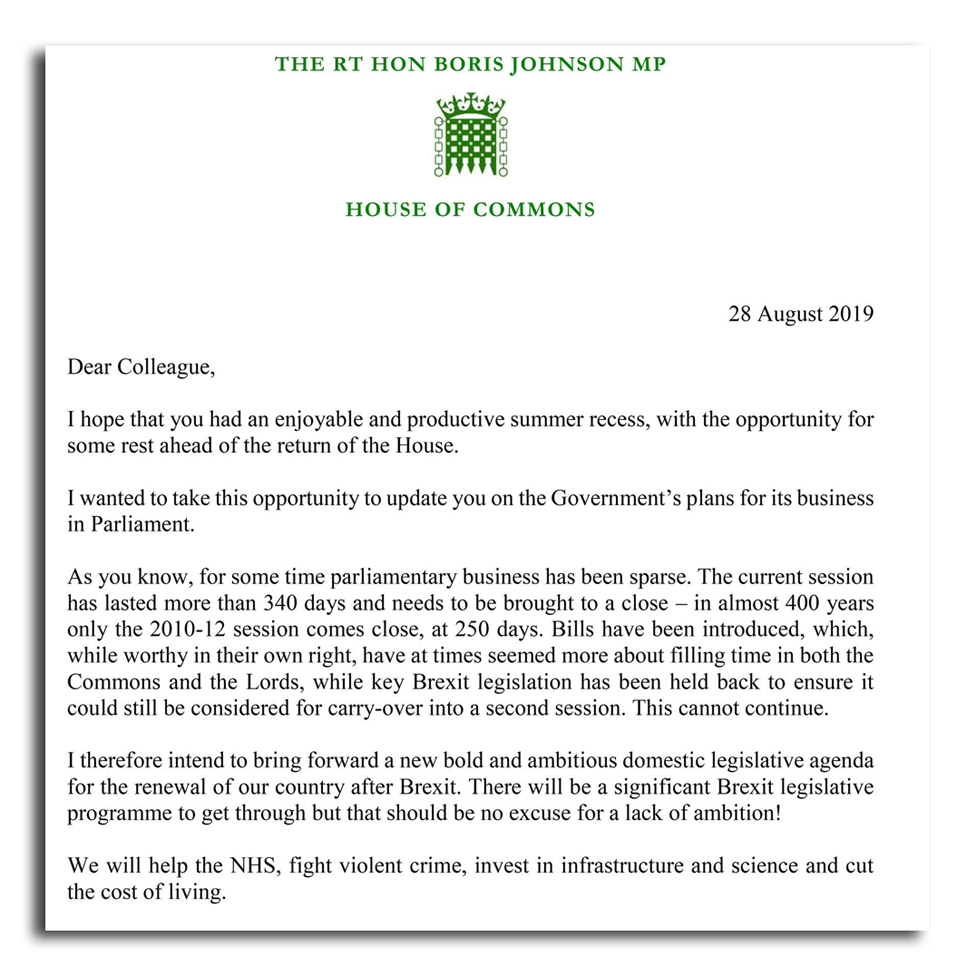 Mr Johnson has written to MPs to outline his plan, adding: "There will be a significant Brexit legislative programme to get through but that should be no excuse for a lack of ambition!"
He also called on Parliament to show "unity and resolve" in the run up to the 31 October so the government "stands a chance of securing a new deal" with the EU.
"In the meantime, the government will take the responsible approach of continuing its preparations for leaving the EU, with or without a deal."
But a senior EU source told the BBC's Brussels correspondent Adam Fleming: "Whatever happens, the EU was never going to change its position because no deal becomes 'more credible' or opponents of 'no deal' would get better organised."
'Utterly scandalous'
Mr Grieve – a former attorney general – told BBC Radio 5 Live: "If the prime minister persists with this and doesn't back off, then I think the chances are that his administration will collapse.
"There is plenty of time to do that if necessary [and] I will certainly vote to bring down a Conservative government that persists in a course of action which is so unconstitutional."
Labour deputy leader Tom Watson tweeted that the move was an "utterly scandalous affront to our democracy", while the former chancellor in Theresa May's government, Tory MP Philip Hammond, called it "profoundly undemocratic".
The leader of the Liberal Democrats, Jo Swinson, said it was a "dangerous and unacceptable course of action".
"Shutting down Parliament would be an act of cowardice from Boris Johnson," she said. "He knows the people would not choose a no deal and that elected representatives wouldn't allow it. He is trying to stifle their voices."
And the leader of the SNP in Westminster, Ian Blackford, accused Mr Johnson of "acting like a dictator".
But Conservative Party Chairman James Cleverly defended the plan as what "all new governments do".

Prorogation in a nutshell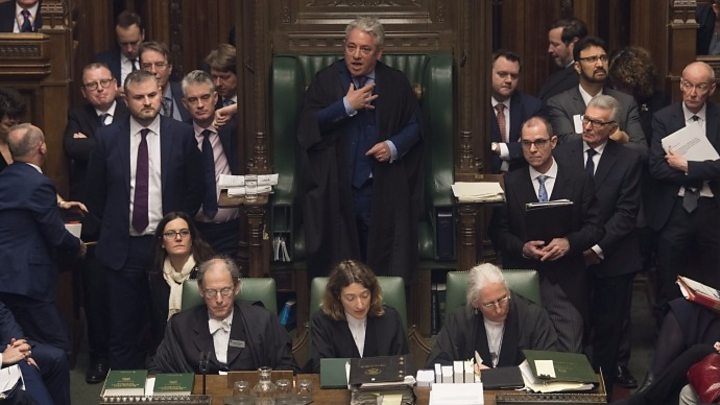 Parliament is normally suspended – or prorogued – for a short period before a new session begins. It is done by the Queen, on the advice of the prime minister.
Parliamentary sessions normally last a year, but the current one has been going on for more than two years – ever since the June 2017 election.
When Parliament is prorogued, no debates and votes are held – and most laws that haven't completed their passage through Parliament die a death.
This is different to "dissolving" Parliament – where all MPs give up their seats to campaign in a general election.
The last two times Parliament was suspended for a Queen's Speech that was not after a general election the closures lasted for four and 13 working days respectively.
If this prorogation happens as expected, it will see Parliament closed for 23 working days.
MPs have to approve recess dates, but they cannot block prorogation.

Parliament returns from summer recess – or break – next week, and another recess was expected to take place between roughly 13 September and 8 October to cover the political conference season.
There had been rumours, however, that the latter could be cancelled or shortened to keep business going in the run-up to Brexit.
Former Tory leader Iain Duncan Smith told BBC Radio 5 Live the decision to suspend Parliament was "not sinister at all", and the dates for suspension covered "pretty much" the same period as party conference recess.
---
BBC
WATCH: Black mermaid caught by Indonesian fishermen
Some Indonesian Fishermen have caught a real black mermaid while fishing.
In the video shared online, the mermaid was seen tired and exhausted as it was still wrapped in the big fishing net.
Recall that some researchers have been trying to lay their hands on a mermaid to know if they are true or just some superstitions.
Watch the video below;
Attention given to Macron slap unfair – French Ambassador to Ghana
The French Ambassador to Ghana Ann-Sophie Avé says the attention given to the assault on French President Emmanuel Macron is unfair.
Her Excellency Avé said the embarrassing incident should not have happened when there are other means to channel grievances in the European country.
Speaking to Francis Abban on the Morning Starr Tuesday Ambassador Avé said the outrageous action of the assailant should not have been given attention.
"France as a state has been struggling so much to promote solidarity and support for Africa economy, a slap from a maroon whose IQ is under the sea level should not change the image of France, this incident has served a terrible image of France all over the world. This is quite unfair," she said.
She added " It was someone who needed 15 seconds of celebrity but this is outrageous. In a democracy, you vote people out if you don't like their governance. It is giving him the celebrity he does not deserve which is unfair."
President Macron was slapped in the face on an official visit to the southeast of France.
In a video that circulated on social media, Mr Macron was seen walking up to a barrier on a trip to Tain-l'Hermitage outside the city of Valence.
A man slaps Mr Macron in the face before officers quickly move in. The president, meanwhile, was pulled away.
Two men were arrested in the wake of the incident, according to French media. As the president was slapped, the words "Down with Macron-ism" were shouted.
Politicians swiftly denounced the incident.
Meet The 76-year-old Man With 38 Wives, 94 Children And 33 Grandchildren
Ziona Chana, the head of a religious sect that practiced polygamy, died on Sunday, leaving behind 38 wives, 94 children and 36 grandchildren.
Chana reportedly suffered from diabetes and hypertension.
Doctors said Chana's condition deteriorated at home in his village, Baktawng Tlangnuam.
He was admitted to hospital on Sunday evening, where he was declared dead on arrival.
It's hard to say if Chana was indeed the head of the world's largest family since there are others who claim the title.
It's also hard to estimate the exact size of Chana's family. At least one report claims he had 39 wives, 94 children, 33 grandchildren and one great-grandchild, which adds up to 181 people.
Chana and his family are a local sensation of sorts, attracting tourists to their village in India's north-east, visit
and Chana's extrordinary life has grabbed several headlines over the years.
The enormous family lives together in a four-storied house called "Chuuar Than Run" or New Generation House, with 100 rooms.
His wives share a dormitory near Chana's private bedroom.
The mansion is a major tourist attraction in the state, with people from around the world thronging the village to get a peek into the family's lifestyle.
Chana was born in 1945. He met his oldest wife, who is three years older than him when he was 17.
Source: Ghanaarticles.com