Woman warms heart as she shaves hair in solidarity with daughter who's battling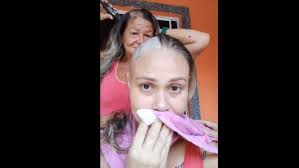 A woman has gone viral after a video of her shaving her hair in solidarity with her daughter who is battling cancer emerged. In a video that was posted on LinkedIn by Kaisar Hamid, the woman could be seen shaving her daughter's hair. All of a sudden, she put the clipper on her hair and shaved it. The daughter was surprised as her mouth was agape momentarily. Her eyes soon welled up with tears as she asked her mum why she was doing it. The woman shaved her hair in solidarity with her daughter who is battling cancer.
Photo credit: Kaisar Hamid/LinkedIn Source: UGC Sharing the video on his page, Kaisar Hamid wrote: Pretty lady showcases her natural hair without attachments, photos go viral "This mother surprises daughter who is a cancer patient by shaving off her own hair in solidarity.
"That's what a mother is all about, putting children first. Can anybody translate it for us? I'm really very curious to know what exactly they are saying." LinkedIn users took to the comment section of the post to share their thoughts. Girish Pareek wrote: "Compassion and Empathy transcends all languages. This is the real abundance. Wishing we all focus to grow this priceless asset to reap infinite results." Dennis de Vries commented: "I'll do the same. My big respect to the mother." Nayaba Arinde reacted: "A mother's love. As a Breast Cancer Survivor I saw how my then 5 and 8 year old children braved my struggle to overcome like champion." Barbara Bongetta commented: "Very emotional.
Having people you love by your side is the key to feel stronger in the worst moment of your life." Lady shares adorable photos online after getting engaged to her best friend, many react In a previous report by YEN.com.gh, Margaret Wanjira, a woman now in her 100s, was married to the love of her life at a young age. She knew her heart beat for her husband and thought they would be together forever. What she did not anticipate were the bumps and cracks that would come her way later.
The granny told journalist Monica Kagoni that she got so much flak from her man's family due to her childlessness. Enjoy reading our stories? Join YEN.com.gh's Telegram channel! Download YEN's news app on Google Play now and stay up-to-date with major Ghana news! Source: Yen