A suspected burglar had a not so bright idea when he tried to disguise himself as a solar panel in a bid to evade police.
Footage shows the bungling suspect lying on the roof of a building following a high-speed getaway attempt.
Despite the originality of the 'ruse', it did not fool police who immediately rumbled the suspect in Wandsworth, south-west London.
Photos taken by the National Police Air Service (NPAS) helicopter's thermal imaging device show a figure next to a solar panel.
The force tweeted some 'friendly advice' on their Twitter account following the bust.
"They'll never find me if I just lay here and pretend I'm a solar panel! Wrong!!" it joked.
"Friendly advice for any burglars that use Twitter – pretending to be solar panel on a roof will not fool us or our camera!!… you're welcome!"
Followers found the incident hilarious and shared their reactions.
"Given that police helicopters have thermal imaging that's a terrible attempt at hiding you'll pick that up in seconds," one person commented.
"They don't appear to be as 'bright' as the solar panels it seems," another joked.
A third echoed their sentiments, writing "not the brightest spark".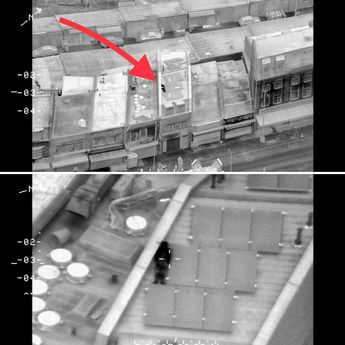 Thermal images show the suspect hiding on the roof of a building in London (
Image: @NPASLondon/Twitter)
SOURCE: mirror.co.uk