You can't force me to join you – Prince David Osei to #FixTheCountry campaigners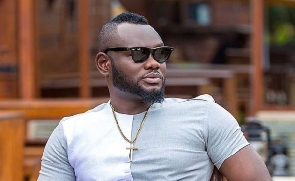 Actor Prince David Osei has indicated that he and other colleagues cannot be forced to join the fix the country campaign to compel the Akufo-Addo led administration to get things done properly.
Actress Yvonne Nelson in a suggestive tweet indicated that some colleagues have lost their voices because they've taken money from politicians.
Prince David Osei who responded to the shade thrown at him and other NPP celebrities could not fathom why he should be forced to join something he does not believe in.
He said "I want to retweet this a million times… Gyimi sorr when I lambasted the government my own people, for an increase in tariffs on Covid19 freebies last month, did anybody's mother or father joined my voice?? Use your voice don't force me into shit!!! I don't just jump!! Excuse me".
Source: My News GH
VIDEO: Ayisha Modi Pens Down Lovely Message For Stonebwoy's 4th Wedding Anniversary
In a previous post, Dr. Loiusa shared some lovely videos and photos of herself and her hubby as they mark their 4th anniversary.
The Stonebwoy fanatic posted a  video on her Instagram page which captures some amazing moments  the couple together with their two adorable kids spent during their getaway.
She wrote; A good marriage is one were each partner secretly suspects they got the better deal. Love 💕
brought you together as husband and wife And gave each of you a best friend for Life, May the Love that you share last your lifetime through, As you made a wonderful pair. Happy wedding Anniversary my special people. I love you both with the Love ❤️ of God. @drlouisa_s @stonebwoyb 😘😘😘😘. Am missing in this action. I love you my family 😘
Source: GhanaArticles.com
SAD VIDEO: Salma Mumin sorrowfully narrates how she struggled while growing up
Multiple award-winning Ghanaian actress, Salma Mumin has opened up on her struggles growing up as a result of her parent's divorce.
In an interview earlier today with Nana Romeo on Accra FM, the actress acknowledged how her parent's separation affected her badly.
Salma said after her parents got divorced, she stopped receiving gifts that used to be the norm when they were together.
The actress also said she made a lot of mistakes growing up in her life because she doesn't have anyone to advise her.
She also stated that, in school, she was all alone. There was no time that anybody visits her like the other kids, to bring her food or anything.
She added that she even took herself to the hospital anytime she gets sick and she kept a lot to herself because there was no one to talk to.
Source: zionfelix.net
'Not even the State can force us to organise his funeral' – Castro's father insists
Father of hiplife legend, Theophilus Tagoe who is popularly known in showbiz as 'Castro Under Fire', Mr Eshun is denying claims about the death of his son, saying that if that were the case, it would have been declared by the State according to its laws after seven long years of his disappearance at Aqua Safari on June 8, 2014.
Mr Eshun, who has since the incident in 2014 refused to believe that his son is dead, has also failed to provide proof of his son's whereabouts.
In the latest interview on Takoradi based Skyy Power FM, Castro's father exclaimed that nothing could make him and the family admit the son is dead, "not even after the state had declared him so as the law demands."
Speaking to Nana Kwesi Koomson on the weekend entertainment show; 'The OC Showbiz', he stressed that the family abides by the laws of the state, and would not conduct themselves in a manner that would in any sense be considered as a resistance to the laws governing the jurisdiction.
"We are law-abiding people so the family will not resist the state institution from pronouncing him dead in July as demanded but will they force us to have his funeral or will they kill him when he appears after the pronouncement?" Mr Eshun, the father of Castro quizzed.
Mr Eshun stated that his son is not dead so no law or person can compel him to organize the son's funeral nor will he be killed should he appear after that pronouncement.
Sounding more composed and refusing to reveal more, Mr Eshun says time has all the answers.
Source: Boga Ali Hashim, Contributor