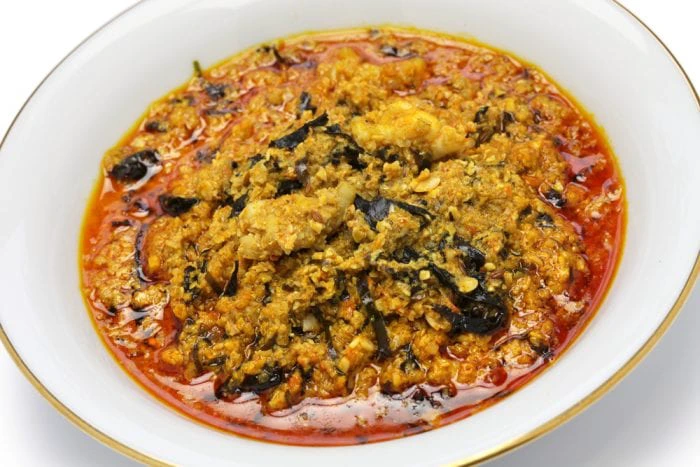 The seeds of plants like squash, melons, and gourds are known as egusi in West Africa. These seeds are dried and ground to make a common ingredient in many West African dishes. Egusi is very popular when combined with pounded yam in Nigerian culture. These seeds offer these crucial nutrients to West African cuisine because they are high in protein and fat.
The soup known as Nigerian Egusi Soup is made with leafy and other vegetables and is thickened with pulverized melon seeds. It is one of the most well-liked soups in Nigeria, made by most tribes with a great deal of variation, and frequently eaten with foods like pounded yams. Use goat, meat, fish, or shellfish to prepare it!
You may learn how to prepare Nigerian Egusi Soup, a well-known West African soup made with melon seeds, by following this recipe.
A cup of chopped onions (about 3- 5 and fresh chilies, to taste)
4 egusi cups (melon seeds, ground or milled)
1-1/2 cups of palm oil
2 freshly ground UNE (Iru, locust beans)
Salt (to taste) (to taste)
Crayfish ground up (to taste)
8 to 10 cups stock
Cooked fish and meat (quantity and variety to personal preference)
Cut pumpkin leaves, 2 cups
Waterleaf, 1 cup (cut)
Bitter leaf, 3 teaspoons (washed)
EGUSI PASTE:
Make the egusi paste as follows:
Blend the onion mixture with egusi seeds. Place aside.
SOUP TO BE MADE:
Add the Une after heating the palm oil in a big pot on medium for a minute.
Add the stock gradually and simmer the mixture over low heat.
Pour the egusi paste mixture into the stock in teaspoon-sized balls. Keep your ball in proper shape.
Simmer the balls for 20 to 30 minutes to ensure complete cooking.
Add the meat, fish, and other ingredients that you want to use.
Add some chopped pumpkin leaves.
Include the water leaf.
Stirring often will help the leaves wilt in 7–10 minutes of cooking.
Insert the bitter leaf. After another 5 to 10 minutes of cooking, remove the lid.
Stir, taste, and make any adjustments.
You can now relax and savor your mouthwatering Nigerian egusi soup!