The alleged mastermind behind the fatal beating of a 90-year-old woman in the Savannah Region has told a court, the death of Mariama Akua Denteh was an accident.
The 40-year-old, Hajia Sirina Mohammed who has been charged with murder told the Bole Magistrate court, she was only doing God's work in exorcising witchcraft from the widow.
The nonagenarian widow was assaulted in broad daylight by the accused person aided by a relative of the deceased, Latifa Bumaye.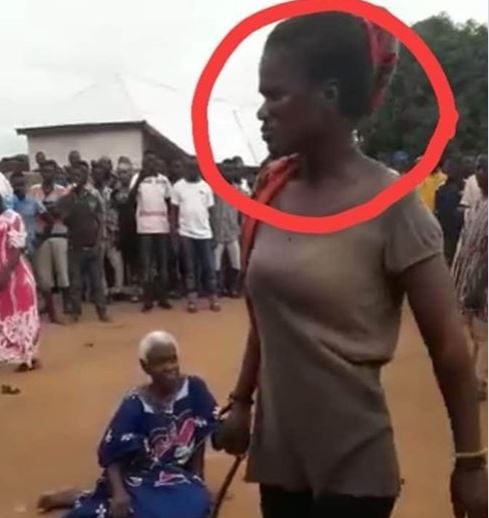 Photo: Latifa Bumaye, was also picked up at Kejewu Bator, a fishing community along the Volta lake.
Video of her beating caused outrage across the country and flow of condemnation from human rights and gender advocacy groups as well as president Nana Akufo-Addo.
The traditional priestess is the seventh person arrested and the key subject of criminal investigations.
The remand proceedings Wednesday lasted a few minutes, the reporter told Citi FM in an interview monitored by Reportghana.com
In a packed courtroom, the judge asked her if she was still interested in carrying on with her work as a traditional priestess.
'The woman said she can't stop. It is God's work', the journalist reported and observed her answer caused rippling laughter in court.
The accused person even offered to help the judge get healed if he was to suffer a health misfortune such as blindness.
The court laughed, even more, Mahama Aruna said.
According to the reporter, the accused person did not show any remorse. 'She was very cool', he said.
After the brief exchanges, the court remanded the traditional priestess to re-appear August 20.
Hours after her arrest, the police say she admitted to being the wanted woman in the viral video who led the assault on the late Mariama Akua Denteh at Kafaba, a farming community in the Gonja East community of the Savannah Region.
After almost two weeks on the run, she was arrested on Tuesday at Yeji, a fishing community in the Bono Region.
The brutal lynching of a 90-year-old woman at Kafaba has revived concerns about outmoded customs, including witchcraft trials that endanger the lives of women.
Many of the widows find refuge in camps set up purposely to accommodate women accused of witchcraft with the flimsiest of evidence.
The five regions of the north have at least six witches camp at Bonyasi, Gambaga, Gnani, Kpatinga, Kukuo, and Nabuli.
RELATED ARTICLE :