Two American astronauts have splashed down, as the first commercial crewed mission to the International Space Station returned to Earth.
The SpaceX Dragon Capsule carrying Doug Hurley and Bob Behnken came down in the Gulf of Mexico just south of Pensacola on Florida's Gulf coast.
A recovery vessel moved in to pick up the vehicle and extricate the men.
The touchdown marks the first crewed US water landing since the final outing of an Apollo command module 45 years ago.
Hurley's and Behnken's capsule touched the water at about 14:48 EDT (19:48 BST; 18:48 GMT).
"It's truly our honour and privilege," said Hurley as they arrived home.
"On behalf of the SpaceX and Nasa teams, welcome back to Planet Earth. Thanks for flying SpaceX," SpaceX mission control responded.
President Donald Trump – who attended the capsule's launch two months ago – hailed its safe return.
"Thank you to all!" he tweeted. "Great to have NASA Astronauts return to Earth after very successful two month mission."


Saving the government billions

The successful end to the crew's mission initiates a new era for the American space agency.
All its human transport needs just above the Earth will in future be purchased from private companies, such as SpaceX.
The government agency says contracting out to service providers in this way will save it billions of dollars that can be diverted to getting astronauts to the Moon, as part of its Artemis programme, and afterwards to Mars.
The Dragon capsule launched to the space station at the end of May on a Falcon 9 rocket, also supplied by SpaceX.
Hurley's and Behnken's mission served as an end-to-end demonstration of the astronaut "taxi service" the company, owned by tech entrepreneur Elon Musk, will be selling to Nasa from now on.
The Boeing corporation is also developing a crew capsule solution but has had to delay its introduction after encountering software problems on its Starliner capsule.

The sight of the vehicle's four main parachutes floating down over the Gulf of Mexico was confirmation the spacecraft had survived its fiery descent through the atmosphere.
The parachutes then slowed the capsule from about 350mph (560km/h) to just roughly 15mph (7m/s) at splashdown.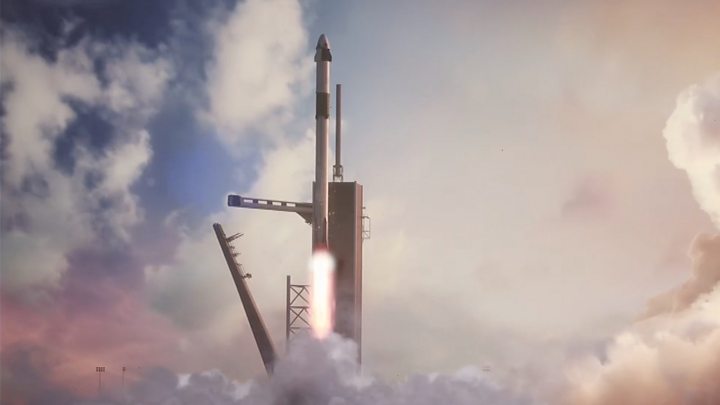 Rigging was used to hoist the capsule out of the water and on to the recovery vessel. Technicians monitored "remnant vapours" around the spacecraft before the hatch was opened.
The men were checked over by medical staff before being flown to shore by helicopter.
The astronauts' Dragon capsule launched to the space station at the end of May on a Falcon 9 rocket, also supplied by SpaceX.
It will now be refurbished to fly again next year.
Nasa Administrator Jim Bridenstine lauded the efforts of everyone involved in Hurley's and Behnken's mission, and then spoke of his agency's shift in philosophy.
"We don't want to purchase, own and operate the hardware the way we used to," he said.
"We want to be one customer of many customers in a very robust commercial marketplace in low-Earth orbit. But we also want to have numerous providers that are competing against each other on cost and innovation and safety, and really create this virtuous cycle of economic development and capability."
Gwynne Shotwell, the president of SpaceX, added: "Today is a great day. We should celebrate what we all accomplished here, bringing Bob and Doug back, but we should also think about this as a springboard to doing even harder things with the Artemis programme. And then, of course, moving on to Mars."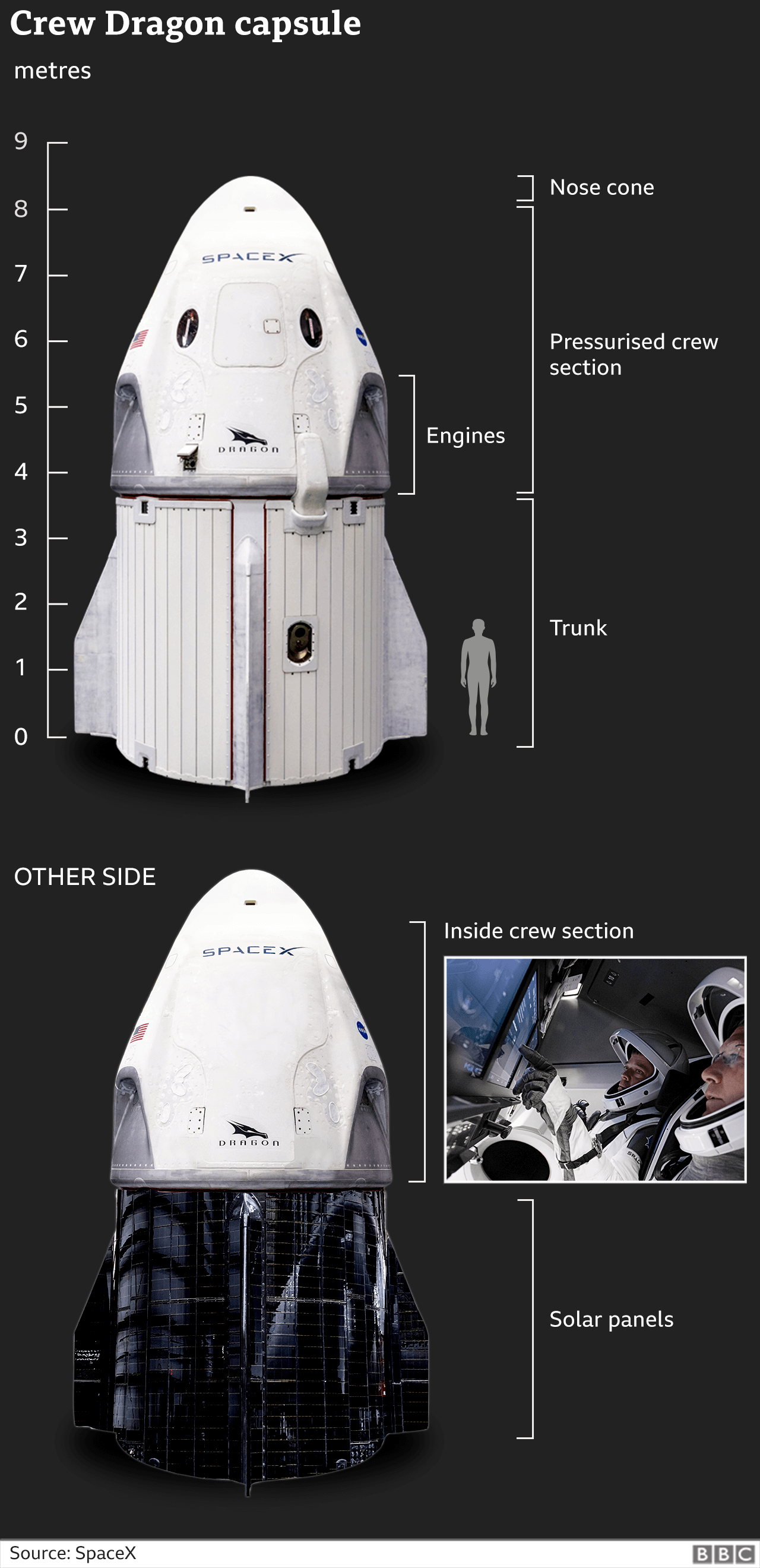 BBC.COM