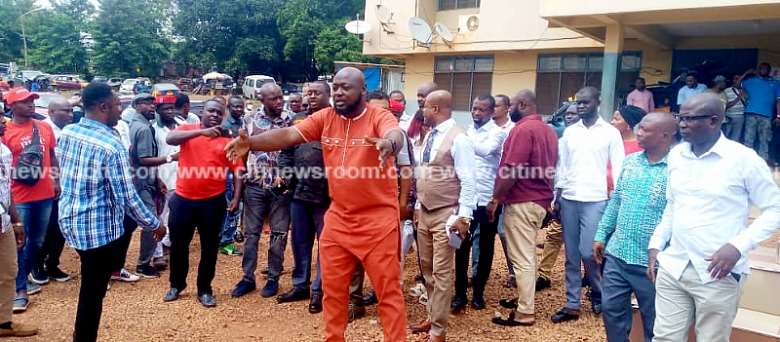 Razak Kaumpa, the opposition National Democratic Congress' Suame Constituency Youth Organizer, has been detained by police after being turned over by the party's leadership.
The suspect, who was accused of inappropriate behaviour, is scheduled to be arraigned on Thursday.
On Wednesday, party supporters gathered at the Ashanti Regional Command before moving to the Suntreso District Command, where the suspect is now being held.
Police started looking for Mr. Kuampa in order to apprehend him for inciting political violence in a viral video.
The suspect had his statement taken in the presence of some NDC National and Regional Executives.
Evans Amankwaah, the suspect's lawyer claims that neither his client nor the party is bothered by the detention.
"His caution and charge statement have been taken. They charged him with offensive conduct, and we are to go to court tomorrow. We will cooperate with the law. The detention does not perturb us. He is not worried and I assure the supporters of the NDC that, the youth organizer is in high spirits."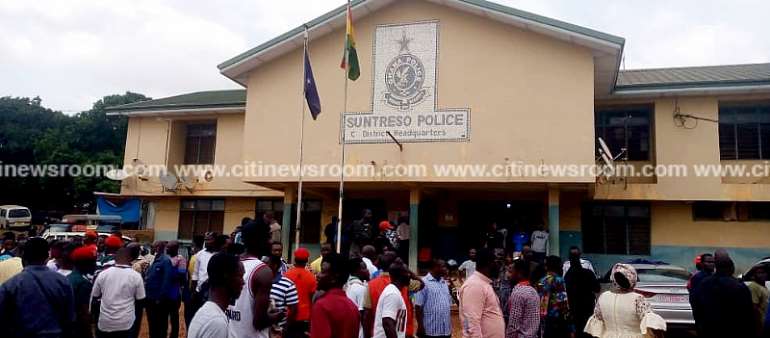 Joseph Yammin, the NDC's national organiser, defended the NDC Suame Youth Organizer's comments and insisted that his detention will not scare the party.
"We are not in any way going to be intimidated by the police or the arrest. As we have massed up here, we will be coming anytime the police takes an action. What we are expecting them to do is to extend equal measure to the NPP. I am sure that the court will have no reason to detain our brother."
The NDC's regional leadership in Ashanti Region met with the police on Tuesday and pledged to work with them to uphold peace and order.
Ashanti Regional First Vice Chairman of the NDC, Captain Kwame Jabari told journalists the party will ensure the right thing is done.
"We have met the regional police commander for a discussion on the viral video. After our discussions, he said we should bring him to the police station. This morning, we took him to the Regional Police headquarters and was sent to the Sofoline Divisional Headquarters and so currently, he is with the crime officer, and possibly he will be processed for court."
He in the viral video is seen inciting the NDC members to attack their counterparts in the NPP in the run-up to the 2024 general elections.
In the meantime, the governing New Patriotic Party (NPP), wants the Police to as a matter of urgency prosecute the NDC Youth Organizer for his utterances.
The party says this will serve as a deterrent to others ahead of the 2024 election.
By CitiNewsRoom