Among the social media sensations in Ghana, Osebor is becoming a household name in that league as well.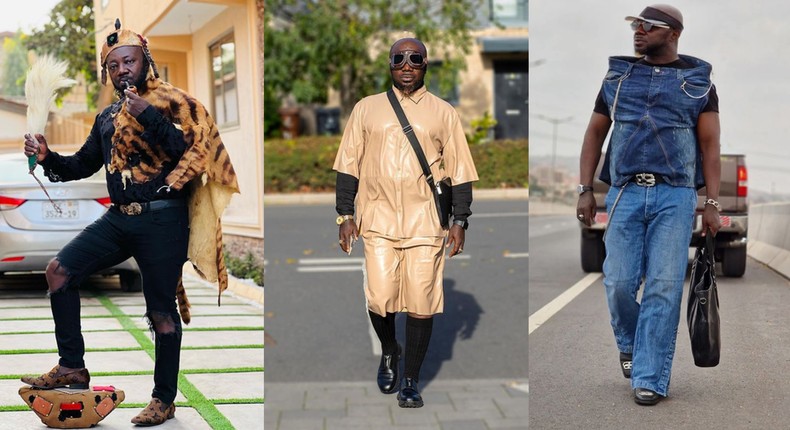 Looking more fashionable isn't always about wearing the trendiest, most expensive clothes, or mastering some complex styling trick. Sometimes it's as easy as just tucking in your shirt or throwing on a pair of sunglasses.
Our very own Ghanaian celebrities have been showing many amazing looks lately. Unlike in the past, today more men care about their style. They are not afraid to accept and try new trends. The guys who dare to wear bold outfits are the ones who stand out in a crowd.
Men can be fashionable too! It's all about creativity, colour coordination and knowing how to pair things up.
When it comes to celebrity style, more attention is given the women. But we want to give a little shout-out to the famous men out there catching our eyes with their sartorial choices.
These celebrities are changing narratives. They are proof that men's style is more than just suits, jeans and collared shirts. It can be colourful, fun and captivating.
Osebor, real name Richard Brown, first made headlines in the Ghanaian media space when he showed up as Nana Aba Anamoah's baby daddy. Since then, Osebor, who owns a popular boutique in Accra, has found himself in the news a couple of times.
The fashionista is ignoring all of the criticisms and has adopted a culture where men wearing dresses and skirts in Ghana and beyond. He definitely isn't bothered by all the ridicule he gets from his critics.
Many Ghanaian celebrities kickstart the year with bold styles taking vital fashion tips from 2022 to merge with of-the-moment elements to create new trends.
The 'Zara man' always sets the tone for new trends. Although Osebo's fashion sense looked extremely wild and edgy, it is surprisingly wearable and will stand the test of
The fashionista has carved a niche for himself that is gradually giving him the title as Ghana's fashion god.
The popular boutique owner in Accra, who takes pride in being a game-changer when it comes to fashion, which he says is 'madness' is not holding back on his fashion trends. We hence have curated 5 photos to prove his love for wild fashion. Take a look.