Opposition activist Vladimir Kara-Murza has been sentenced to 25 years in jail in Russia for charges linked to his criticism of the war in Ukraine.
He was found guilty of treason, spreading "false" information about the Russian army and being affiliated with an "undesirable organisation".
The Russian-British former journalist and politician is the latest of several Putin opponents to have been arrested or forced to flee Russia.
He has denied all of the charges.
Mr Kara-Murza, 41, has spent years speaking out against Russian President Vladimir Putin and, alongside the war in Ukraine, has also been critical of the government's crackdown on dissent.
Last week, he said in a statement that he stood by "every word that I have said… Not only do I not repent any of this, I am proud of it."
"I know that the day will come when the darkness engulfing our country will clear," he added in remarks posted online. "Our society will open its eyes and shudder when it realises what crimes were committed in its name."
Mr Kara-Murza's 25-year sentence, which has been widely condemned, was the maximum sought by prosecutors and is the longest sentence an opposition figure has received since the war in Ukraine began.
It took only minutes for the judge to rule on his case – sometimes the delivery of verdicts and announcing sentencing can take a long time in Russian courts.
The judge said Mr Kara-Murza would serve his time in a "strict regime correctional colony" and that he would be fined 400,000 roubles ($4,900; £4,000).
The tough sentence is a sign that in today's Russia the authorities are not only determined to silence critics but also to neutralise anything or anyone they believe represents a threat to the political system.
The BBC was not allowed access into the courtroom and only a handful of journalists from Russian state media were granted access, along with the defendant's mother and lawyer.
Instead, reporters and foreign ambassadors crowded into a separate room to view proceedings on two TV screens.
Speaking outside the court after the sentencing, his lawyer Maria Eismon, said the sentence was "terrifying" but also a "high appreciation" of her client's work.
"When [Mr Kara-Murza] heard it was 25 years, he said: my self-esteem even rose, I realised I'd been doing everything right!" she said.
Russian opposition leader Alexei Navalny also weighed in on Mr Kara-Murza's sentencing, calling it "revenge" by the Kremlin "for the fact that he did not die at one time" after he allegedly survived two poisonings by Russian authorities.
Mr Kara-Murza played a key role in persuading Western governments to sanction Russian officials for human rights abuses and corruption.
He was arrested a year ago in Moscow, initially for disobeying a police officer. More serious charges were levelled at him once he was in custody.
Mr Kara-Murza's case was partly based on a speech he made to politicians in the US last year, where he said Russia was committing war crimes in Ukraine with cluster bombs in residential areas and "the bombing of maternity hospitals and schools".
Those claims have been independently documented – but deemed false by Russian investigators who said the defence ministry did "not permit the use of banned means… of conducting war" and insisted Ukraine's civilian population was not a target.
Another charge stemmed from an event for political prisoners at which Mr Kara-Murza referred to what investigators called Russia's "supposedly repressive policies".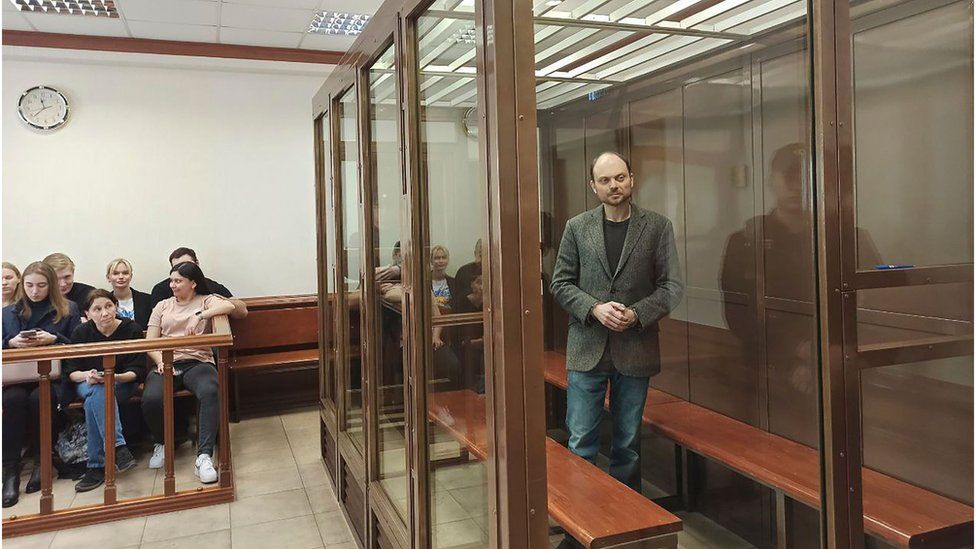 Last week, a copy of a speech he made to the closed court was released, in which he said his trial reminded him of a Stalin-era show trial of the 1930s.
"I only blame myself for one thing," he said.
"I failed to convince enough of my compatriots and politicians in democratic countries of the danger that the current Kremlin regime poses for Russia and for the world."
His sentence has been widely condemned, with the British government summoning its Russian ambassador and saying that it would look at measures for holding those involved in Mr Kara-Murza's detention and "mistreatment" to account.
The UK had already sanctioned the judge who presided over the trial for previous involvement in human rights violations.
"Russia's lack of commitment to protecting fundamental human rights, including freedom of expression, is alarming," British Foreign Secretary James Cleverly said in a statement.
Later on Monday, the Russian Foreign Ministry criticised Britain's response to Mr Kara-Murza's arrest, describing it as "direct interference in the internal affairs of Russia", AFP news agency reported.
The ministry said the British ambassador made "unacceptable" remarks after London demanded his immediate release.
The United Nations and the US State Department have also condemned the verdict, with the latter describing Mr Kara-Murza as "yet another target of the Russian government's escalating campaign of repression".
Not-for-profit group Human Rights Watch, meanwhile, described the verdict as a "travesty of justice" and called on Russia to "immediately vacate the verdict and unconditionally free him".
Mr Kara-Murza comes from a well-known Soviet dissident family. His father, Vladimir Sr, was also a Kremlin critic.
He received British citizenship when he moved to the UK as a teenager with his mother and he attended Cambridge University.
He began his career in journalism before becoming an adviser to Boris Nemtsov, another prominent Russian opposition leader and politician who was shot dead in Moscow in 2015.
Mr Kara-Murza was involved in the passing of the Magnitsky Act in the US – a key piece of legislation that helped secure the adoption of sanctions targeting human rights abusers in Russia.
He nearly died twice after being poisoned and moved to the US with his family to recover. He later returned to Russia but refused to leave after the invasion of Ukraine, despite the growing risk to those who opposed the government.
BBC