It was all fun and entertainment at Essikado in Sekondi-Takoradi, as ten Masquerading Clubs thrilled an enthusiastic audience with singing, dancing, gymnastic displays and firing of fire crackers amidst brass band music to climax their tenth anniversary celebrations.
This Carnival which was founded 10 years ago by Hon Joe Ghartey, MP for Essikado Ketan was christianed Ye Wo Adze Oye (We have something good) by the Omanhin of the Essikado Traditional Area, Nana Kobina Nketsia V. Hon Ghartey said after he decided to hold the festival he consulted Nana Nketsia for his blessing and he added the name Ye Wo Adze Oye.
The clubs that participated are Freedom and Justice, Oil City, Odo Ye Few, Ocean City and Nyanta Club all from Sekondi.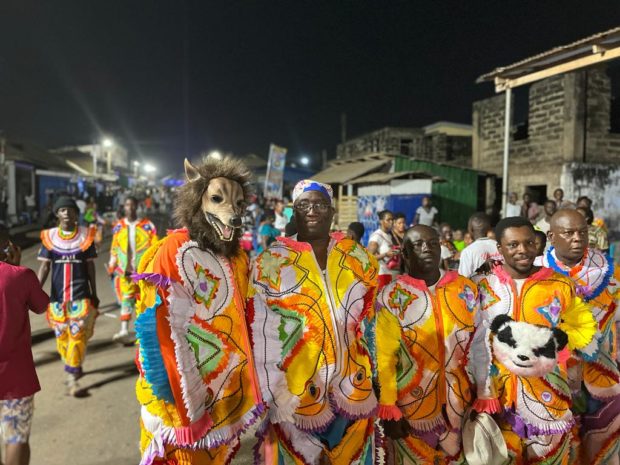 The rest are Westside Classic Ladies an all female club from Sekondi-Takoradi. SMS Club, Iron Fighters Club, Yankee Club and Chinese Club all from Essikado.
https://fb.watch/hSvr5H1RFL/
This year's event, dubbed, "Essikado Yewo Adze Oye Street Carnival" was under the auspices of the Member of Parliament (MP) for Essikado-Ketan,Mr.Joe Ghartey and MP for Sekondi, Mr.Andrew Agyaapa Mercer.
Speaking to Ghana News Agency during the event, one of the organizers, Mr Francis Quayson said that the first Masqueradors Club at Essikado was called Chinese Masqueraders Club and it was formed in 1957 a year after the first club in the Western Region, the Ankos Club was formed in Takoradi in 1956. He stated that 10 years ago Hon Joe Ghartey founded the annual Masqueraders Street Carnival in Essikado.
He said the annual street carnival has been the main event of the people around Christmas and New Year and it ignites and electrifies the atmosphere .
Mr.Quayson said this year's event has been well organized and patronized by indigines of Sekondi-Takoradi and others from Ghana and abroad.
The event was well attended and in attendance was the Western Regional Minister and MP for Takoradi, Dr.Kwabena Okyere Darko-Mensah. This years event was hosted by the MP for Essikado-Ketan,Mr.Joe Ghartey and MP for Sekondi, Mr.Andrew Agyaapa Mercer
The founder Mr.Joe Ghartey said they will continue to sustain the festival to attract more tourists to Sekondi and Essikado to witness their rich culture.
He said the celebration of street carnivals in the Sekondi-Takoradi metropolis,has really made the Christmas and New Year festivities special.
All the principal streets of Essikado were choked with people eager to catch a glimpse of the sterling performances of masquerading clubs.
Economic activities were brisk and by midnight all the various food joints, bars and shops has started running out of stock. This did not deter the people who were there till dawn the next day.
The Ghana Prisons Band was in attendance to provide the audience with a side attraction. The festival also featured young and upcoming rapper, Semekyia. The Organiser's were confident that next years event would be bigger and better.