The port city of Kherson in Ukraine's south has reportedly become the first major city in the country to be taken over by Russian forces.
It came as Volodymyr Zelenskyy, in an overnight video address, called on Ukrainians to keep up the resistance.
"They will have no peace here. They will have no food. They will have here not one quiet moment."
Moscow's isolation deepened, meanwhile, when most of the world lined up against it at the United Nations to demand it withdraw from Ukraine.
After seven days of Russian assault, the UN's refugee agency announced that 1 million people had fled Ukraine since the invasion, the swiftest exodus of refugees this century.
Russian forces in 'complete control' of Kherson
Kherson's mayor, Igor Kolykhayev, told Reuters on Wednesday night (local time) that Russian troops were in the streets and had forced their way into the city council building.
Ukraine's government had earlier played down reports that Kherson, a strategically important shipbuilding city of 280,000 on the banks of the Dnieper River near where it flows into the Black Sea, had fallen into Russian hands.
Mr Kolykhayev urged Russian soldiers not to shoot at civilians and publicly called on civilians to walk through the streets only in daylight and in ones and twos.
"We do not have the armed forces in the city, only civilians and people who want to live here!" he said in a statement.
The New York Times reported that a senior Ukrainian government official had confirmed that Russian troops had seized the city.
However, Mr Zelenskyy's office told The Associated Press that it could not comment on the situation in Kherson while the fighting was still going on.
Russian Defence Ministry spokesman Igor Konashenkov said Kherson was under Russia's "complete control".
He said the city's civilian infrastructure, essential facilities and transport were operating as usual and there were no shortages of food or essential goods.
Mr Konashenkov said talks between the Russian commanders, city administrations and regional authorities on how to maintain order in the city were underway on Wednesday (local time).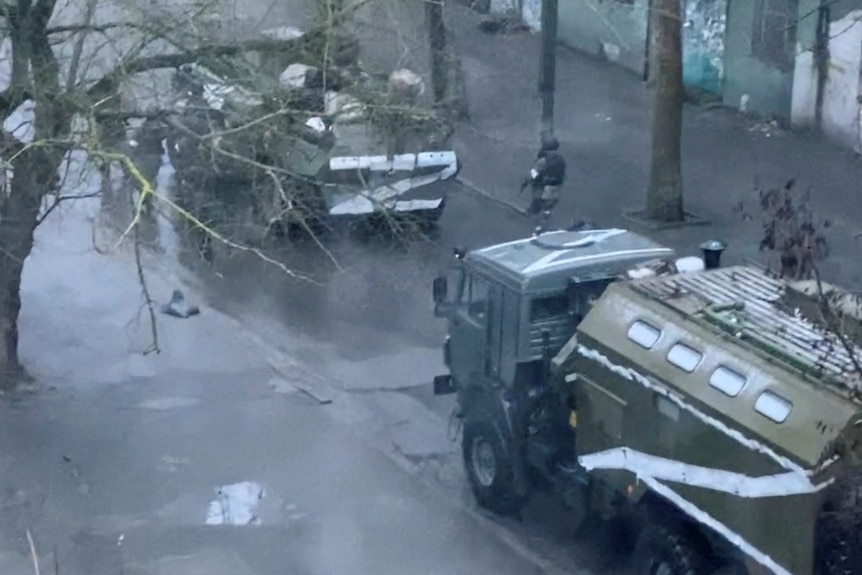 A senior US defence official said that they had seen claims that the Russians had taken Kherson, but that the Ukrainian military was rejecting that claim.
"Our view is that Kherson is very much a contested city at this point," said the official, who spoke on the condition of anonymity to make military assessments.
In his video address early on Thursday morning (local time), Mr Zelenskyy did not comment on whether the Russians had seized several cities, including Kherson.
"If they went somewhere, then only temporarily. We'll drive them out," he said.
He said the fighting was taking a toll on the morale of Russian soldiers, who "go into grocery stores and try to find something to eat".
"These are not warriors of a superpower," he said. "These are confused children who have been used."
He said the Russian death toll has reached nearly 9,000.
"Ukraine doesn't want to be covered in bodies of soldiers," he said. "Go home."